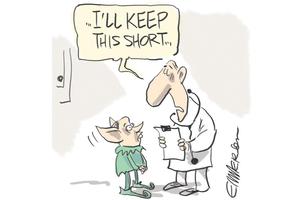 Short people suffer a greater rate of illness and death from heart disease, research has shown.
After studies that involved more than three million people, European researchers found the shortest group had a 50 per cent higher risk of illness and death from coronary heart disease than the tallest group.
They couldn't name a cut-off point between short and tall because of variety in the source studies, so they stated the different risks for the shortest and tallest groups of men and women.
"The reason/s for short stature being a risk factor for coronary heart disease remain open for hypotheses," researchers say in a report on their analysis in the European Heart Journal.
"In previous studies it has been suggested that the reason behind this association could be low socio-economic background with associated risk factors such as poor nutrition and infections resulting in poor fetal or early-life growth.
"[One of the source studies] found that short men have not only a higher prevalence of coronary disease, but also a greater severity of coronary disease than tall men."
Auckland University researcher Professor Rod Jackson said yesterday he thought the association between height and heart health was real and he agreed it was probably linked to socio-economic status.
"In New Zealand, people in lower socio-economic groups have worse rates of smoking, do less physical activity and are fatter than people in higher socio-economic groups," he said.
"When it comes to coronary disease the evidence is very good that most of the causes are related to your environment in the five to 10 years before you have the event.
"So it's adult nutrition and adult smoking and adult levels of physical activity that are far more important determinants of whether you have a heart attack than what happened in your childhood."
SIZE MATTERS
The relative risk of illness and death from heart disease:
* 50 per cent higher in the shortest people, when men and women considered together.
TALL DEFINED AS
* Men over 177.5cm.
* Women over 166.4cm.
SHORT
* Men below 165.4cm.
* Women below 153cm.