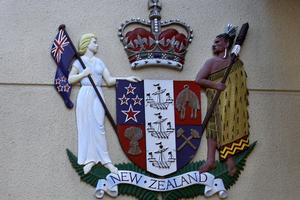 After cutting the throat of his paralysed friend, Eric Neil Smail kissed him on the forehead and told him he loved him.
A day after beginning his evidence in the High Court at Christchurch, Smail, 53, has given his account of the night he killed the friend he was working as a caregiver for - July 28, 2005.
He also gave details of the relationship between the men and the events leading up to a morose drinking session at two hotels before he returned to the house and cut Keith McCormick's throat with a kitchen knife.
Smail faces a charge of murder. He denies the charge but would accept a finding of manslaughter, citing provocation as his defence.
He has always accepted responsibility for Mr McCormick's death from stab wounds to the throat, but today he described the stresses he felt in looking after his sick and disabled friend.
He said he hated being in the bedroom where Mr McCormick was lying after his condition deteriorated.
He felt revolted by having to feed him, and disgusted by having to clean the mucus from his nose when he had a cold. He described being in "a dark room, like a tomb".
Asked if he had spoken to Mr McCormick about his feelings, Smail said: "We were mates. I wasn't going to tell him I could not handle looking after him."
On the day of the killing, Smail went to work for a day as a plasterer. He was already exhausted from the hard, physical work the day before.
Rain cancelled the work so Smail and his workmate spent time drinking at a tavern in Bromley, and then at the Cave Tavern in Sumner, near where Smail lived and cared for Mr McCormick.
He decided to stay drinking at the Cave rather than go home early to Mr McCormick.
"I didn't like being in that place. I wasn't going to spend three hours there if I didn't have to."
While at the tavern he formed the opinion that Mr McCormick "would be better off dead".
He was dropped off at home by a friend and went inside where Mr McCormick challenged him - understandably, Smail acknowledged - about being late for his shift as a caregiver.
"I said, 'Keith, it doesn't matter'."
He then walked into the kitchen and returned holding it behind his back and stood in front of Mr McCormick, who was in his wheelchair.
He then stabbed him in the neck and then cut his throat.
"As he was going backwards, and the breath was going out of him, I kissed him on the forehead and told him I loved him," Smail told the jury.
He said he then went to the bathroom and washed his hands, and may have washed the knife. He then left the house and made a series of phone calls.
Smail told the trial how he came to be employed as a caregiver by his friend, who was paralysed after breaking his neck. He told of his own heavy drinking, and being earlier criticised for that and for his lateness by Mr McCormick.
Smail said he had gone on the drug Antabuse, which caused people to become ill if they drank alcohol, for a time to halt his drinking.
He told the court he had stopped taking the medication about July 22, six days before the killing, because he was feeling healthy again and the drug was making him tired.
The trial is continuing.
- NZPA