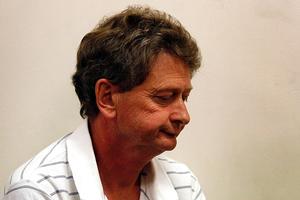 ASB Fraudster Stephen Versalko. Photo / Dean Purcell
ASB Bank and a prostitute have wrestled through an almost six-hour negotiation about money stolen by a former investment adviser without arriving at a clear answer.
Stephen Versalko stole $17.8 million over nine years before he was discovered and prosecuted by the Serious Fraud Office. ASB alleges that the prostitute was paid up to $2.55 million and the bank is now trying to recover the money.
Negotiations between the prostitute, who has name suppression, and the bank were held in the High Court at Auckland today before Associate Judge Antony Christiansen. The parties sought a settlement in talks closed to the public and media.
The prostitute and business owner, who is 41-years-old, arrived at the High Court just before 10am holding hands with a man understood to be her husband.
The negotiating parties talked through to 5.30pm, adjourning three times for about an hour each, when the two sides held separate discussions in the court's interview rooms or cafe.
ASB had three representatives, who marched first out of the conference room at each break, briskly and with their heads down, to a private area without uttering a word more than "no comment" to nzherald.co.nz.
The woman, meanwhile, was represented by David Jones, QC, and supported by the man who arrived at the court holding her hand.
Every time the man left the negotiating room, he said: "Same answer" - understood by nzherald.co.nz to mean "no comment" and "no settlement yet".
Mr Jones said he was sorry but could not comment. Asked at 5.30pm what the next step was, he said: "One foot in front of the other."
The woman said: "I've got nothing to say to you."
Among the money and gifts Versalko gave the prostitute is $10,000 for a clothes-shopping spree and a business trip to a luxury hotel in Dubai.
ASB has already recovered $4m from selling two properties formerly owned by Versalko in Auckland's upmarket suburb of Remuera and another in the Coromandel.
In a court file released by Justice Rhys Harrison last month, the ASB said it was "unconscionable" for Versalko to have made the fraudulent payments to the woman whom he met at the Pelican Club in Auckland.
The bank said it was also "unconscionable" for the woman - and companies she transferred funds into - to have kept the money.
The ASB statement of claim says that Versalko made two large payments to a company run by the woman: $1 million in December 2008 and $964,287 in April 2009.
The two sums were transferred directly from accounts of customers he defrauded.
He made a further 19 payments to her between April 2008 and August 2009 of between $3500 and $100,000 shortly before the fraud was discovered.
Versalko also made several cash payments and gave her $10,000 to buy clothes to wear on a business trip to Dubai. The pair stayed at the exclusive Burj Al Arab Hotel, where the cheapest room costs US$2000 ($2980) a night.
Two other defendants in the ASB case are companies of which the woman is a director. She transferred $720,000 into one company to purchase a lifestyle block, where she now lives.
According to the ASB, a sum of at least $290,000 was transferred from the first company to the second company.
A fourth defendant is a property development company that received $520,000 from one of the companies owned by the woman.
Versalko met her at the Pelican Club, which charges clients $210 an hour or up to $1500 a night - although the women there earn considerably less than that.
Catherine Healy, of the New Zealand Prostitutes Collective, told the Herald in March that the escort would have earned an hourly rate, and she could also be an independent contractor who could charge any price she wanted.
"Private arrangements may be initiated at the first point of contact, but who can say it was just contained at the Pelican Club?
"All sorts of the most remarkable arrangements come from private client relationships and this [Versalko case] is one of those," said Ms Healy.
"It's rare, but not uncommon, to hear of clients paying huge sums of money or buying houses for them."
While Versalko was able to defraud the ASB of $17.8 million for nine years, the scam was unravelled in just one day when a customer rang the bank with concerns.
ASB is yet to explain how Versalko escaped detection for so long but says new procedures are in place to prevent such fraud from happening again.