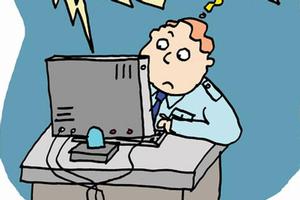 Most of us have thought about it, some of us have done it, but few have been caught out as spectacularly as Grant Fife.
The Air New Zealand worker sacked for revealing just what he thought of his manager in an email has lost his bid for reinstatement.
Fife was sacked for serious misconduct in March after sending the message to the subject by mistake.
He was replying to an email from Air NZ performance and development manager Phil Callahan to flight attendant Dale Kiely about an insurance claim.
Fife was copied into the email and sent a reply describing Callahan in what the Employment Relations Authority said were "highly derogatory and offensive terms".
He thought the reply was sent to Kiely - but the subject of his outburst received it too.
Fife was sacked on March 10 after an internal investigation by manager Alan Gaskin.
Six days later Fife lodged a complaint with the Employment Relations Authority claiming his dismissal was unjustified and asking for his job back and reimbursement for lost wages.
But in a ruling released this week, the ERA found in favour of the airline, saying Fife described Callahan "in terms which can only be described as grossly offensive".
ERA member James Wilson ruled the sacking "was what a fair and reasonable employer would have done in all the circumstances and therefore justified".
The ERA was told Fife twice apologised to Callahan by email. He even suggested to Gaskin that he meet with Callahan but Gaskin replied:
"Given the content of the email and the language used, it clearly showed that there wasn't any type of relationship that (Callahan) would want to foster."
Fife, who worked for Air NZ for 21 years, claimed a written warning he received in 2007 for an incident the year before tainted Gaskin's investigation.
Flight attendant union FARSA assisted Fife but refused to comment yesterday.