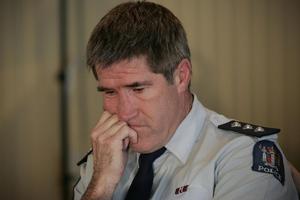 Police officer Michael O'Leary wept as he told a young boy trapped in a burning vehicle: "I can't help you."
However, with the help of two others, he managed to pull 9-year-old Kawana Kemp from a burning van, one of three vehicles involved in a fiery fatal crash that killed five people.
The Havelock North police Inspector, who was off duty and travelling towards Hawkes Bay on State Highway 1 last April, gave evidence this week before coroner Dr Wallace Bain at the inquest in Rotorua into the deaths of the five.
He said he saw a black Chrysler crash into a red BMW and then into a red Toyota Estima van.
Ratapu Taitapanui, 4, Lottie Taitapanui, 46, Anna Kemp, 22, and Wellis Lauano, 24, were killed when their van was hit. They died from burns and possible crash injuries.
The driver of the Chrysler, Peter Pie, also died in the crash.
Giving evidence, Mr O'Leary said he was just north of Taupo, driving along State Highway 1 towards Hastings with family, when he heard a "loud smash" and saw the van "still perfectly in our lane but vertical and still climbing up in the air.
"It twisted while it was in the air and fell back down to the road, I think, on to its rear.
"It then fell over on to its left side - still facing the direction it had been travelling in - and then barrel-rolled about four times off the road to the left."
Mr O'Leary said he "took a deep breath and just thought I had a job to do".
He went straight to the black car and found Mr Pie slumped forward against the steering wheel and his daughter, Kirsten Pie, 11, in the back. Then there was an explosion.
"All I could see was the bottom of the [van] and the four wheels. There was quite a bit of flames coming from the front of the vehicle."
Mr O'Leary managed to pull Amethyst, the 2-year-old son of Ms Kemp and Mr Lauano, out of the car and in a safe place with his own daughter. He then went back to the van to try to get a second boy out.
"The car was filling up with dense, black smoke. The flames were fully involved and the car was making explosions.
"When I arrived at the car, I had heard a male voice calmly say 'hey mate, just help me with my belt'."
However, his mind was on trying to get the young boy (Kawana Kemp) out.
"There was another explosion and I remember being in tears and saying 'I can't help you'.
"I had made a half step to move away but then made a decision that I had to do everything I possibly could to save this boy.
"I was aware of the danger, but I was going to have to live with myself if he burnt to death.
"He kept yelling out 'it's burning me, it's burning me'."
Mr O'Leary, with the help of his son and another witness, Taupo's Peter Booth, managed to rescue Kawana Kemp from the burning wreckage. The young boy was burned from the top of his backside down to the bottom of his legs and was yelling out: "I want my mummy."
Mr O'Leary said Mr Booth had a pocket knife that they used to help get the child free.
Mr Booth said he had been travelling behind the Chrysler before it crashed and noticed it turned to the other side of the road in a controlled turn before going back on the correct side of the road.
"I thought maybe he had a blackout or something," he told the court.
Mr Pie had epilepsy medication - aminoclonazepam - in his system. He had slept only eight hours in the previous two days, Taupo police crash analyst David Frazer said.
For more articles from this region, go to Rotorua Daily Post