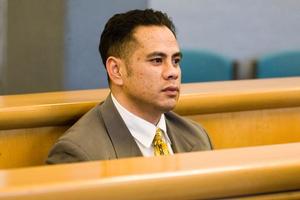 The man who brutally killed Chinese grandmother Yan Ping Yang during a home invasion has been jailed for at least 20 years.
Ah You, 30, was found guilty of murdering Mrs Yang in April. She died in hospital on June 14, 2008, three days after he battered her frail body with punches and kicks and stomped on her chest that knocked her unconscious.
During the assault Ah You dragged the 80-year-old by the hair and tried to bundle her into a wardrobe. He pushed a cordless telephone handset into her mouth, punched her in the face, attempted to strangle her and banged her head against the wardrobe door.
At the High Court at Auckland today Justice Edwin Wylie ordered Ah You spend life in jail and imposed a minimum non-parole period of 20 years.
"You murdered an elderly and defenceless woman in her own home all for the relatively paltry sum of $2000."
He said the crime was "brutal and callous" and that Ah You was looking money to fund his drug and gambling habits.
Crown prosecutor Kieran Raftery said the callousness of the crime called for a higher minimum non-parole period than 17 years, seeking a minimum term of 21 years.
He said Mrs Yang was a frail woman and Ah You a "fit young man" who didn't need to inflict the injuries he did to get away. He said the level of cruelty shown and the multiple injuries inflicted were "particularly concerning".
Mrs Yang's granddaughter Lily Zsu told the court her family had been left "deeply traumatised and scarred" by her murder. She said she would feel the hurt, sorrow and pain of her death for many years.
Ms Zsu said in Chinese culture the oldest family member was he head of the house and deeply respected and that her murder had changed the family forever.
A jury in the High Court at Auckland took just over two hours to find him guilty after a week-long trial.
After the verdict, the Herald revealed Ah You had already committed four serious assaults by the time he became a murderer, one of them occurring only a fortnight before the murder.
He is currently serving a 12 year sentence for those assaults.