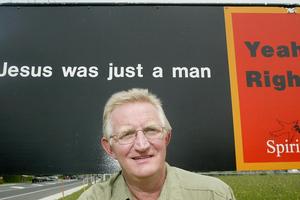 DB Breweries has made its peace with a small Tauranga church.
Last month Bethlehem Community Church attracted a lot of media attention when DB's lawyers rang saying it was infringing trademark laws by using a billboard similar to its Tui beer "Yeah Right" campaign.
The church's billboard proclaimed "Atheists have nothing to worry about! Yeah Right", and had done similar billboards for about eight years.
The giant brewery was accused of lacking a sense of humour.
Today, DB said it had "extended an olive branch" to the church and Tui marketing manager Jarrod Bear had asked its advertising agency, Saatchi's, to look into a new billboard format specifically for the church.
It was not something it would usually do but Mr Bear said he felt it was warranted in this case.
"We appreciate that the church's use of our billboard format was simply designed to raise awareness of their offering and not denigrate our brand in anyway."
Mr Bear said the church's intentions were honest in putting up a Tui look-alike billboard but unfortunately he was seeing more and more copycat versions popping up.
"In the church's instance there are no hard feelings and we're pleased to be able to help them out."
Reverend Jim Wallace was presented with the agency-developed concept yesterday, which included the phrases "God tweets too. Just look up in the trees" and "God, the ultimate search engine".
Rev Wallace told NZPA some were very clever and would appeal to a range of ages. It was "an unprecedented, generous move" by the brewery and the church would definitely use them, he said.
The church had since taken down the contentious billboard.
"We are not in the business of fighting copyright law. We are not here to make enemies, we are here to tell people about Jesus and to do it with a sense of humour."
He stressed the church had not been bullied by DB. It had been using the billboard for eight years, in semi-ignorance, although he admitted they were being a bit cheeky.
Rev Wallace admitted the move would create good publicity for the brewery as it had to be seen as community minded.
However, it was still important people did not lose sight of the important debate to be held around alcohol abuse in light of recent alcohol-related teenage deaths and after-ball school parties, he said.
- NZPA