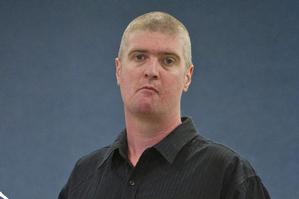 John Skinner yesterday told a court he was in "total fear" and acting on instinct when he fired his air rifle at Sergeant Don Wilkinson who he believed was reaching for a gun.
The confrontation on a dark South Auckland driveway on September 11, 2008, left Mr Wilkinson dead, a colleague badly wounded and Skinner charged with murder.
Skinner, 37, told the High Court at Auckland yesterday, where he is being tried for the murder: "I was freaked out. I thought we were going to get shot. I thought we were going to die."
He and Iain Lindsay Clegg, 33, who also faces a murder charge, chased Mr Wilkinson and another officer through a dark Mangere street after disturbing them trying to install a tracking device on a car.
They have pleaded not guilty to murder and attempted murder of the other officer. Skinner also denies a charge of assault with a firearm.
The court heard he was inside his Hain Ave house with Clegg when they saw two men on a security camera on the driveway.
"We saw two males, two intruders, sneaking up our property ... They looked like burglars. Home invaders."
He thought that because they wore balaclavas, had tool bags and were "sneaking" in the shadows.
"They looked like they were there for something serious. It was just a scary thing to see." He and Clegg went outside and the men "took off". Clegg got in his car while Skinner went back to get the gun.
Outside he saw a man and confronted him. That man was also part of the covert operation. When he was challenged he said he was "an old man looking for his dog".
Clegg informed Skinner he wasn't one of the men they were looking for. They got into Clegg's car and followed the officers around the corner to Earlsworth Rd, quickly spotting them down on a driveway.
Skinner said he asked what they had been doing and got no response. The man in front put his hands up "in a fight stance", as if he was going to fight Clegg, who came forward and struck him.
"It all happened really fast from there. The guy at the back ... I saw him gesture towards his waist line. I thought he was going for a gun.
"Neither of them was saying anything. No one said anything at any time. When he went for what I thought was the gun I thought he was going to shoot us."
He said it wasn't a situation they could walk away from at that point because "they" wanted a fight.
Asked what he did next he said: "I fired it. It was instinctive. There were no thoughts. I was trying to save my life and Iain's life. I thought we were going to get shot."
He next remembered Clegg telling him to get in the car and they drove back to Hain Ave. The jury heard he was in shock, his "heart-pumping".
When police told him the man he'd shot was a police officer and had been killed, Skinner was "blown away" .
"It was a slug gun. I never thought in my wildest dreams, thought someone could get killed or seriously injured by a slug gun."
The trial continues.