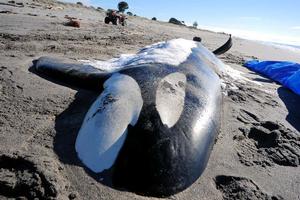 An orca that washed up dead on Whakatane's Piripai Spit has been buried whole in a nearby Maori cemetery despite researchers wanting to perform an autopsy on the two-tonne whale.
The 18- to 20-year-old male orca was discovered by people from the Whakatane suburb of Coastlands on Monday.
Department of Conservation official Mike Jones said the mammal was 5.9m long.
"We believe it was one of a pod of four seen by Coastlands and Ohope residents during the weekend," he said.
"However, unless someone has some close-up photos, we cannot be sure of that."
Orca researcher Ingrid Visser came to Whakatane hoping to be able to perform an autopsy on the orca.
Local iwi initially agreed to the autopsy.
"On Monday we consulted Ngati Awa as we are tasked to do and they agreed an autopsy could take place," Mr Jones said.
He understood an autopsy meant an examination of the orca's stomach contents, a CT scan of its head and testing of blood samples, among other things.
On Monday night the four marae and hapu of the area met and discussed the orca.
"I believe two of the marae were happy for an autopsy to happen but the rest were not," Mr Jones said.
Ngati Awa cultural adviser Pouroto Ngaropo said sea creatures were spiritual guardians of the people of the land.
"This whale is a message that has been sent to us," Mr Ngaropo said.
"The last orca whale to come ashore we [Ngati Awa] know of was when Te Tahi-o-terangi rode a whale from Whakaari [Whale Island] to the mouth of the Whakatane River."
Te Tahi-o-te-rangi was a famous whale rider who, according to local legend, rode a whale-shaped taniwha called Tutarakauika to the mainland.
"Because of the whale's connection to the people of the land, it must be buried with its ancestors in the sacred urupa Opihi," Mr Ngaropo said.
Locals remained with the whale throughout Monday and Tuesday until Mr Ngaropo performed a karakia (blessing) before it was buried at Opihi.
Ms Visser was given permission to take a sample of blood and a small piece of the fin for research purposes.
- APN