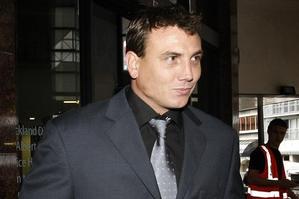 A student allegedly set upon by two off-duty police officers could be heard yelling "What's your problem ... We didn't even say anything to you, I don't even know you" during a panicked 111 call.
The call was played yesterday to the Auckland District Court, where Auckland City constables Patrick Douglas Garty, 32, and Wiremu Bowers-Rakatau, 21, are defending allegations of common assault.
Garty is facing three charges and Rakatau faces one charge. They are jointly charged with a further assault charge.
A third officer, Chris Renata, has been charged with common assault in relation to the incident, and is to appear in court for a separate defended hearing.
The student who made the 111 call, Vincent Burns, told the operator he and his friends had been followed and one of them was being assaulted.
He said he didn't know who the attackers were, but his mate had been cut and was bleeding from the head.
The court heard that Burns and a group of friends, including Benjamin Palmer and Thomas Campbell, were on High St about 1am on March 18 last year when they encountered Garty and Rakatau.
Police prosecutor Eilidh Hook said the students spent several seconds playing with a shopping trolley before Garty is alleged to have yelled out to them.
The yelling between the parties continued as the students walked into Little High St towards apartments where one of them lived.
Mr Palmer was giving the officers the finger with both hands in a "continuous and enthusiastic manner".
Garty changed direction and followed the students to the apartment entrance where it is alleged he assaulted Thomas Campbell by knocking him to the ground with a "double-handed strike to the chest area".
Mr Palmer opened the apartment doors and kept the door ajar to allow Mr Campbell inside.
Ms Hook said Garty allegedly forced the door open to gain access to the alcove.
"He has gone after Palmer ... Garty moved towards him, taking a fighting stance, striking him in the chest with a double-handed strike.
"That was followed by a series of punches to the head and face," she said.
He then confronted Vincent Burns, who he struck with an "open-handed punch".
Ms Hook said Garty returned to Mr Palmer landing a "further series of punches to the head and face" that caused him to fall back and "strike his head against the stairwell as he collapsed on the floor".
As he turned back to Palmer, Rakatau "forced himself" between Garty and the others, forcing them back into the foyer and preventing them from aiding Mr Palmer, she said.
Rakatau allegedly then kicked another of the group five times in the knee area, allowing the assault on Mr Palmer to continue.