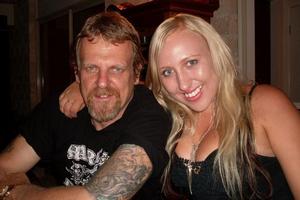 A New Zealand father of four was shot dead in front of his daughter as they celebrated at a family housewarming on Queensland's Gold Coast.
The accused killer - another Kiwi - allegedly turned his gun on other partygoers before it was wrestled from him.
Brent Dumper, 46, a former Waiuku antiques dealer, died instantly from a shotgun blast early on Sunday as he and his wife, Karyn, celebrated the move of their 22-year-old daughter, Jessica, to the Gold Coast suburb of Upper Coomera.
Yesterday, Bevan Carl Forsythe, 36, was remanded in custody for a committal hearing in December, charged with killing Mr Dumper and the attempted murder of another partygoer.
The murder has rocked the town of Beerwah, near Glass House Mountain in the Sunshine Coast hinterland, where Mr Dumper worked as a real estate agent with long-time friend Roger Guillemet.
"He was a huge man, about 6ft 7in [2m], with a laugh-and-a-half to match," Mr Guillemet said yesterday.
The two met in New Zealand about 27 years ago, and remained friends after Mr Guillemet moved to Queensland in 1997.
Mr Guillemet said the Dumpers had been together for many yearsin Waiuku, and had married in Bali about six or seven years ago.
They had Jessica and younger daughter Katie, 15, and Brent also had two sons, Blake and Shane, in their 20s.
"He was running an antiques store in Waiuku and just happened to say he was getting a bit bored with that," Mr Guillemet said.
"So I said, 'Why not come over to the Sunshine Coast and go into real estate?' I've known him a long time and I knew he was going to be good at it, which he was."
Mr Dumper was a keen sailor in New Zealand, and remained a passionate motorcyclist in Queensland.
"One of his main passions in life was motorcycles of any description, whether it be trail bikes, road bikes or dirt bikes," Mr Guillemet said.
"He loved riding. He was one of the most skilful riders I've ever met."
Last weekend, Brent and Karyn Dumper drove south to the Gold Coast for Jessica's housewarming.
Early on Sunday, witnesses said, an argument broke out between Mr Dumper and another man.
A pamphlet deliveryman, who declined to be named, told the Brisbane Courier-Mail that he had heard an argument and a woman yell at the house as he was making letterbox drops in Meadowbank Drive.
"The girl was saying, 'You don't have to do this, you don't have to do this'," he said. "Then there was a bang."
Detective Senior Sergeant Mark Proctor said Forsythe, a neighbour, had become involved in an argument with Mr Dumper, whose daughter was in a relationship with Forsythe's cousin.
Mr Proctor said Mr Dumper and Forsythe had been bickering all night but there had been no major incident before the shooting, the Gold Coast Bulletin reported.
"Just two blokes who didn't get on," Mr Proctor said. "They'd been at each other and it just built up."
Police allege Forsythe left the party and returned with a shotgun about 4.45am.
He shot Mr Dumper and fired at another man, narrowly missing him.
Mr Guillemet said he thought Mr Dumper became a target because of his size.
"The thing with Brent was that simply because of his sheer size, wherever he went he stood out in a crowd. He was head and shoulders above everyone else."
Mr Guillemet said Forsythe had "taken exception to something", went home to collect the shotgun and came back shooting.
He said Mr Dumper had been in the wrong place at the wrong time.
"After he shot Brent, he turned the gun on the girls, then another man jumped up and managed to wrestle the gun."
The other partygoer narrowly avoided also being shot, and Forsythe ran off.
He was arrested soon afterwards.
Mr Dumper's family were too distraught to speak yesterday. Mr Guillemet said they were "absolutely devastated".
"Brent was the type of character who did everything for them," he said.
"He did lots of things for lots of people. He was a very well-liked man.
"All I can say is that it was a sad loss and a tragic and senseless act of violence."
Anne Dumper, one of Mr Dumper's relatives in New Zealand, said the family were devastated by the shooting.
"We've gone through hell," she said.
Forsythe's lawyer, Campbell MacCallum, said his client at this stage intended to defend the charge and would decide by Monday whether he intended to apply for bail.