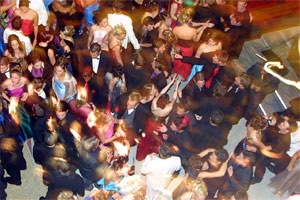 Plans have been scrapped for a King's College after-ball where parents were going to buy their children alcohol.
A 15-member parents committee - including New Zealand's richest man, Graeme Hart, and businessman Michael Stiassny - wanted a King's College after-ball at which students under 18 would need a parent to buy drinks for them from a licensed bar.
However, Mr Stiassny told the Herald yesterday those plans had been shelved following difficulties in securing a licensed venue.
"Unfortunately it's highly unlikely there will be an after-ball."
He said the cancellation was not because of public criticisms.
The plan to help students with their after-ball followed the death of 16-year-old King's student James Webster after he had been binge-drinking neat vodka at a party in Grey Lynn.
It also came amid a police crackdown on the illegal serving of liquor at after-ball parties, which led many organisers to cancel plans.
Auckland City Mayor John Banks, whose teenage son was at the party where James Webster died, has criticised plans for the King's after-ball.
He said he could not understand why 16- and 17-year-olds needed to be drinking early in the morning.
"I think it sends all the wrong signals around moderation and responsible parenting."
Meanwhile, students at Takapuna Grammar School have been warned that if they proceed with plans for an alcohol-fuelled after-ball, the main event will be cancelled.
The Herald understands senior pupils, with former students, were planning a function to be held after the school's senior ball on July 3.
The tickets were to cost between $40 and $60 and included alcohol, which would be provided at the venue - details of which would remain a secret until students boarded a bus.
However, those plans have now been cancelled after rumours of the after-ball reached senior staff.
Takapuna principal Simon Lamb said the school had a reputation for running "very successful" balls for Year 12 and 13 students but this year's function would be cancelled if anyone broke the rules.
"I have been very clear and transparent in my discussions with students and parents. As stated in a letter to parents, if an after-ball organisation exists, the school reserves the right to cancel the Takapuna Grammar School Ball for 2010."
Mr Lamb said the school did not support the holding of an after-ball.
"Takapuna Grammar School will withdraw the main event if an after-ball is arranged."
One senior student, who did not want to be identified, said a similar thing happened last year but another after-ball was planned five days out from the event.
The girl said she wouldn't be surprised if something else was organised, despite the rules.