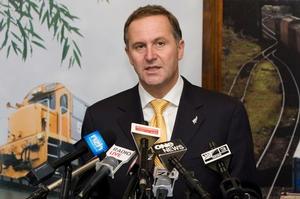 National fell from 54 per cent support in mid-April to 49 per cent. Photo / Mark Mitchell
Perhaps the only surprise in National shedding a hefty five percentage points in the latest opinion poll is that the drop in support for the governing party was not even greater.
National's slide in the One News-Colmar Brunton poll from 54 per cent support in mid-April to 49 per cent follows a period when the Government has been paddling in deep and dangerous political waters where the currents of public opinion run particularly strong.
Moreover, it has often done so without ensuring it has the means to extricate itself should it get into difficulties.
Notably, it has played fast and loose with voter emotions on two extremely touchy issues - race relations in its dealings with the Maori Party and questions of national identity in seriously considering allowing mining companies to dig for minerals in national parks.
After an 18-month dream run during which National had polled consistently above 50 per cent - and as high as 57 per cent - Sunday's poll may be viewed as a watershed and the end (finally) of the honeymoon with voters.
But that may be too simplistic.
The Roy Morgan poll, which surveys voter preferences more frequently, had National slipping to around 49 per cent a couple of months ago. Moreover, support has since remained around that level.
That is still four percentage points above National's 45 per cent on election night - hardly reason to even think about pushing the panic button.
The Morgan poll results also suggest the Budget has not (yet) paid the dividend National had hoped. Further results last night from the One News poll may explain why.
Respondents generally did not believe the tax cuts would make them better off. But they felt the Budget would be good for the economy.
The factors cutting National's support kicked in well before the Budget. Inevitably, the party has lost the softest bit of the "soft vote" component of its support. Keeping this group on board was never going to be sustainable over the long term.
The message National should take from the poll is that it needs to lift its game in terms of political management, rather than continue its relaxed, sometimes lackadaisical approach. That did not matter so much when it was surfing the poll wave. It does if the polls are now on the turn.
The lesson for Labour is that it is still having huge trouble reconnecting with voters. The One News poll is good news for Labour in that National has fallen below a crucial psychological barrier of 50 per cent support.
The bad news is that lost support is not coming home to Labour, which is marooned on 33 per cent - exactly the same share of the vote it recorded on election night.
There must also be serious concern in the caucus that despite a number of statements repositioning Labour, neither the party nor Phil Goff are getting any traction. Goff will continue to plead for patience. But time marches on relentlessly.
Despite a much more measured performance this year, Goff is not even exciting Labour supporters as preferred prime minister, recording only 6 per cent against John Key's 46 per cent.
There is hope for Labour. It has only to look across the Tasman at how the Rudd Government has suddenly found itself on the back foot after a similar dream run in the polls to National's.
The federal Opposition is back on level terms just in time for this year's election. But to bring that about required a changing of the guard at the very top of the party.