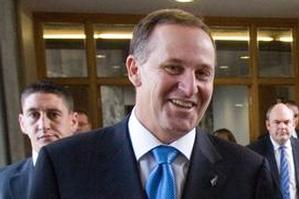 Prime Minister John Key yesterday told a National Party regional conference about meeting the two men who assaulted him at Waitangi in 2009.
He said Maori Party MP Hone Harawira had brought the brothers, John and Wikatana Popata, to a hui in Auckland - where the PM was speaking - to apologise for their actions.
At Waitangi, they had set upon Mr Key just after he got out of the car to go on to Te Tii Marae, his first visit as Prime Minister after forming a Government including the Maori Party.
In Auckland, Mr Key talked to them about the incident and whether it had been planned.
One of the brothers told him they had turned on the radio that morning and heard the protest movement was over because of the National Government.
But he believed the movement would never be over and that was what had sparked their actions.
"It shows the unpredictable world that we live in," the PM said.
The brothers pleaded guilty to a charge of assault in June 2009 and were each sentenced to 100 hours' community work.
Mr Key told the delegates. which numbered 300 at their peak, that National had entered the relationship with the Maori Party "to give the Government balance and that is very important."
He said he also wanted a "unified New Zealand" that could take on the world and win, not one based on a grievance mentality looking backwards.