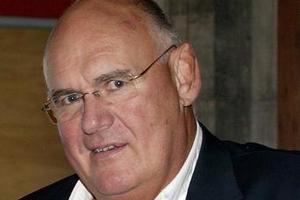 A public apology from Andy Haden over comments he made during the week has been accepted by Rugby World Cup Minister Murray McCully, and the former All Black remains an ambassador for the 2011 Rugby World Cup.
Haden sparked a public backlash by suggesting during the week on Sky TV's Deaker on Sport programme that the Crusaders franchise had race-based selection policies which involved recruiting only three "darkies".
Mr McCully met with Haden today amidst calls to fire him from the role.

"We had a very constructive discussion for about an hour," Mr McCully said. "The obvious interest that the Government has in this whole exercise is that a statement was made which caused offence to a significant number of people."
He said Haden had initially apologised for offending people, and had reaffirmed that with another one today "and that addresses the key point of concern from the Government's perspective".
Haden said in a statement today he did not intend to cause offence but, in hindsight, it was obvious offence had been caused.
"Several media outlets have today reported that I have apologised to those who were offended by my remarks. I wish to reiterate that apology more generally today.
"I am very committed to seeing this country maximise the opportunities around next year's Rugby World Cup.
"I am enjoying contributing to the success of the programme as a 2011 ambassador and will try to meet the challenges posed by the greater level of scrutiny associated with the role."
Mr McCully said: "If we were to take out everyone who made a mistake and shoot them we'd sooner or later run out of people to do things in this country. We just have to accept that a mistake was made, it's been addressed by Mr Haden and I'm satisfied to leave it there."
The six people who had been appointed ambassadors were sportsmen, not diplomats, he said.
"He has been selected because he has probably got the biggest network of sporting and business leaders in Asia and Australia. He's been doing a tremendous job for the 2011 office, connecting business and tourism investment programmes up with people who can help us."
Mr McCully said people in a role such as Haden's needed to understand there was a high level of scrutiny attached.
"It's not something that Mr Haden had given enough thought to. This experience will have caused him some pain.
"The guy has put a lot into rugby, and to be the butt of criticism would not have been a very enjoyable experience for him."
- NZPA