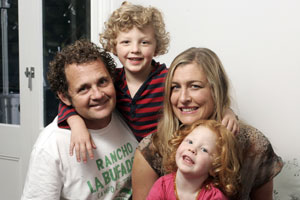 Parents might have long suspected it, but research has shown girls cost more than boys to raise.
Overseas financial advice website lovemoney.com found parents will spend more than $4571 a year on goodies for their girls, including clothes, shoes, activities and club fees. That amounts to $61,144 between the ages of 5 and 18.
Parents of boys will have to fork out $57,254 over the same period, or roughly $4298 a year.
Lovemoney.com editor Ed Bowsher told a British newspaper the biggest area of expense was clubs and activities, but the difference was down to "a girl's love of clothes and fashion".
Pumpkin Patch New Zealand chief financial officer Matthew Washington says girls' clothes account for two-thirds of its turnover. He believes girls are more "fashion-orientated" than boys and like to mix and match their outfits accordingly.
Sandra Mitchelle, manager of the Trelise Cooper Kids store in Newmarket, Auckland, who has raised two girls and a boy, says grandparents often buy their girls' fashion.
"Boys don't really mind what they wear, but girls are more aware."
Kiwi parenting guru Ian Grant claims marketers know they can "get" to girls easier than boys, leading to pressure on parents.
Grant, who writes books and holds seminars about raising kids, says they appeared to be targeting girls aged 7 to 11 more than ever.
Known as tweenagers, the age group is seen as worldly and fashion-wise, with more interest in clothes and makeup than their mothers and grandmothers.
"We're concerned because we think it robs them of being a child," says Grant. "You often hear parents say 'we've got a daughter who's 8 going on 18'."
He also warns divorced parents not to spend large amounts on their kids because they feel guilty about the break-up.
And he recommends free family activities, like walks on the beach, rather than visits to the mall, which he described as an "American disease".
Cost of clothes the big difference
Dave Bavage and Nicky Duggan try their best to spend the same amount on their son, Max, and daughter, Coco.
Each has weekly swimming lessons and similarly priced birthday parties and presents.
Max, 5, plays soccer, which costs about $200 for the fees, uniform and boots. Dave, a consultant, hopes Coco, 2, will play when she's bigger. Nicky, a sales and marketing manager, says her daughter can also take dance lessons if she wishes.
The big difference is the cost of clothes, says Dave.
The Auckland couple bought Max a $89 knitted cotton rollneck jersey then found "he would rather wear a dinosaur T-shirt", says Nicky.
"With boys you can put them in shorts and a T-shirt and they look great, but having a girl ... I want her to look pretty, too."
Nicky predicts the biggest costs in the future will be technology - laptops for schools and phones to keep in touch.
But the couple are keen to keep their kids grounded and say they love free activities, like visiting Takapuna beach or walking up Mt Eden.
What do you think?
Email us at letters@hos.co.nz.