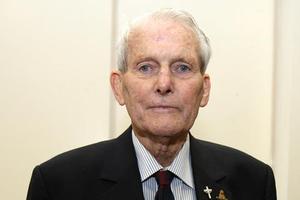 Nearly 44 years ago, in the bleak torrential rain of a Vietnam downpour, Morrie Stanley saved a lot of Australian lives.
Today the Australians recognised his Vietnam War bravery and in a moving ceremony which reduced the terminally ill Mr Stanley to tears, they pinned a bravery award on his chest in a ceremony at the East Coast Bays RSA on Auckland's North Shore.
The award was an Australian Unit Citation for Gallantry awarded to D Company, 6th Battalion Royal Australian Regiment which fought in a battle now famous in Australian military history.
Three New Zealand soldiers - Captain Stanley and lance bombardiers Willie Walker and Murray Broomhall - were attached to the 104 members of the Australian company when they were attacked in the rubber plantation of Long Tan by about 2500 to 3000 North Vietnamese Army and Viet Cong soldiers on August 18, 1966.
In the ensuing battle 17 Australian soldiers died and 23 were wounded but had it not been for the skills of the kiwis, the battle of Long Tan would probably have been lost and all the Australian soldiers killed.
The trio were at the front line directing the artillery fire from 21 artillery guns from New Zealand, Australia and American units which eventually drove back the attacking Vietnamese troops, leaving 245 dead.
Mr Stanley was in the thick of the action, directing artillery fire in torrential rain to land the artillery shells on the enemy soldiers within 30m of the Australian soldiers.
Today Mr Stanley said he was stunned to get the award and although he did not consider himself to be an emotional man, he had tears in his eyes, particularly when he was reunited with Mr Walker and several of the Australian soldiers. The Australian veterans had made the journey especially for the presentation.
"I am astounded, I was stunned.
"I have done a lot of weeping in the last week and I don't mind admitting that," said Mr Stanley, whose terminal cancer was diagnosed only two months ago.
He had expected to be going to the RSA for a small lunch gathering and said he was "floored" when he recognised people he had fought alongside nearly 44 years ago.
Mr Stanley said there were 104 Australian heros and three New Zealand heroes at the battle of Long Tan.
"We all saved ourselves. If I had not survived, they certainly wouldn't have and if they hadn't survived, I certainly would not have," he told NZPA today.
Veterans Affairs Minister Judith Collins hailed Mr Stanley as a hero who overcame overwhelming odds.
"It was an impossible situation in which the unit faced overwhelming odds. Without Mr Stanley's courage and cool-headed commitment to duty, many Australian soldiers might never have made it out of that plantation alive<" she said.
"I congratulate Mr Stanley on this citation from the Australian Government. He is an inspiration and true Anzac hero of whom all New Zealanders should be proud."
During the four-hour battle, more than 4000 artillery shells were fired from the 18 105mm pack howitzer artillery guns before the North Vietnamese and Viet Cong soldiers quietly slipped away.
In his account of the battle, Major Harry Smith, the company commander of D Company in 1966, said his soldiers fought off wave after wave of enemy attacks.
"They would reorganise and come back in with bugles sounding, clambering over bodies of dead comrades.
"At times we brought the artillery fire in very close, almost on top of us," he wrote.
Mr Stanley said many people did many great things during the battle.
- NZPA, NEWSTALK ZB