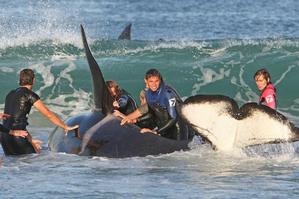 A tear of joy rolled down Ingrid Visser's face as an orca gave one last flick of its tail and swam off from Ruakaka Beach.
The experienced whale watcher and Tutukaka-based orca expert punched her fists into the air and let out a whoop of joy after a battle to free the adult whale, named Putita, from the beach on Tuesday.
There was a round of cheers and clapping from the the crowd, which included Department of Conservation staff, police and residents who had watched the rescue from the beach, which is 30km south of Whangarei.
The crowd had watched with some apprehension as two other orcas, responding to Putita's distressed calls, surfed in waves perilously close to shore.
It was Putita's mother Yin, and his older brother Rua, who risked stranding themselves to get closer.
But it was a whale tale that had a happy ending.
At 4.18pm a group of rescuers managed to push Putita to safety. The whale had been beached for nearly two-and-a-half-hours. The relief for Miss Visser was evident.
"I got the call there was a stranded orca and when I got down here I knew straight away who it was. I've known this guy since he was a kid," she said.
"His mum and brother were sitting out there waiting for him. I know all of these whales ... they are my whanau. It doesn't get any better than this."
Miss Visser said it was not the first time Putita had stranded and he had previously been rescued at Mangawhai.
He was a great hunter and may have been catching stingrays in the surf when he got into the shallow water yesterday and struck trouble, she said.
The alarm was raised by Ruakaka residents Bob Slight and Ashley Osborne, who had been sitting on a bench looking out to sea when they spotted a huge dorsal fin cruising south along the beach.
Mr Slight said the whale had been at the back of the surf when it turned and swam straight towards the shore.
"It looked like he surfed in on the wave and then got grounded and was lying on his side," Mr Slight said. "He was making a squeaky noise and then the others showed up."
For Mr Osborne, the sight of the struggling mammal was alarming. "I've seen them in the surf before but never stranded. They just seem helpless."
Word spread quickly and within minutes a group had gathered to right the struggling whale.
Brian Challenor waded in and with the others managed to point the whale back out to sea.
"We could hear him whining distress signals. We had to battle the waves before we could get him up right. It was bloody hard," Mr Challenor said.
If you see orca anywhere around the New Zealand coast, the Orca Research Trust would like to hear from you on 0800 SEE ORCA
- APN