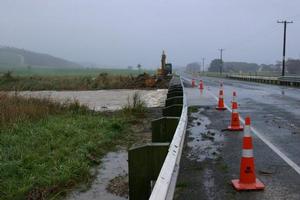 Flood waters in Canterbury and Otago have begun to recede as heavy rain eases, but there's no respite with snow forecast for tonight.
A very cold southerly flow would sweep over the South Island overnight tonight, bringing snow down to near 300 metres in Otago and Canterbury, the MetService said.
Many roads around rivers in Christchurch were closed due to flooding, with dozens of others under threat.
Rain levels picked up dramatically throughout the day, leaving the Avon and Heathcote rivers brimming even before high tide.
Christchurch Civil Defence Controller Michael Aitken warned people to avoid roads around rivers around high tide, and to take extreme care at other times.
Several schools shut early and some roads in the region were closed due to the dramatic downpours. The Port Hills end of Colombo Street is also starting to flood, with the rain running down Dyers Pass Road.
Meanwhile, Otago Regional Council staff are in for a long night as they wait to see if rivers around Dunedin will breach their banks.
The Taieri River south of Dunedin is currently spilling over into flooding ponds and it is expected to remain high through the night.
The Silver Stream near Mosgiel is also running high and is in danger of over spilling.
The council says it would only take a few hours of about 10 to 15 millimetres per hour for it to breach its banks. Staff will be monitoring it closely through the night.
Waitaki Civil Defence in North Otago is bracing for snow and continued rain, with a further 20mm expected by midnight tonight.
Forecaster Bob McDavitt said the first "low snow" of the year was just another piece of bad news for residents mopping up after heavy rains.
Mr McDavitt warned farmers the combination of cold temperatures, snow and strong winds might be too much for some stock to cope with.
A second cold front from the east tomorrow night could also bring heavy snow falls to North Otago and Canterbury.
SH1 reopens
State Highway 1 south of Oamaru had reopened, but the highway was closed at the Waitaki Bridge north of the town with diversions in place.
Motorists were advised to take extreme care and avoid travelling north.
State Highway 82 and State Highway 83 were both now open but many local roads remained closed by surface flooding.
All people on rural water supplies were advised to conserve water as a number of water supplies had been shut down.
Waitaki Civil Defence spokesman Scott Ridley today advised rural residents to boil their water.
Environment Canterbury (ECan) was winding down operations at its Timaru flood room as rainfall weakened and river levels dropped across South Canterbury.
All Canterbury rivers had remained within their stopbanks over the past three days but some surface flooding remained, ECan said.
Timaru, Waimate and Mackenzie District Councils had closed their emergency operations centres.
Timaru District Council said there was still some surface flooding on SH11 immediately north of the Temuka River Bridge but the road remained open.
A number of other roads in the region were still closed this afternoon.
In Temuka, the Civil Defence Centre has been activated, with the town recording rainfall of between 120 and 200 millimetres since Monday.
Environment Canterbury flood controller Tony Henderson said the Temuka River was flowing at nearly 600 cubic metres per second and had caused some surface flooding on the south side of the river, but believed the township would be spared.
Selwyn District Council said a number of ford crossings had closed and further closures were possible.
On the Taieri Plains south of Dunedin, the flood risk would remain high for several days, Otago Regional Council said.
The Silver Stream was steady below the Gordon Road spillway level, near Mosgiel, but it would only take a few hours of rain to spill over and would be monitored overnight, duty flood manager Matt Hickey said.
The Taieri River at Outram was expected to remain high overnight as floodwaters made their way down from the upper Taieri catchment.
Unauthorised people had raised the floodgate to the upper ponding area in the early hours of this morning, but water was now spilling into the area after council staff lowered the floodgate.
Police were investigating the floodgate raising, the council said.
The Shag, Kakanui and Waianakarua Rivers were all dropping from yesterday's peak flows, but water flows were above normal in the Pomahaka River and the Tokomairiro River was also slowly rising.
Residents in low-lying areas were still advised to keep a close watch on river flows and inform the council of flooding.
'Floating' cars spotted in Wellington
Last night, water flowed on to properties in the northern Wellington suburb of Tawa, as well as in Porirua's Titahi Bay, forcing Civil Defence to prepare to evacuate houses from 9pm.
Several roads around Titahi Bay were closed as surface flooding sent cars floating down them.
"There were a couple of places where cars were bobbing around," police central communications Inspector Mark Oliver said early this morning.
"You're talking about a fair amount of water to float a car. Although it may not necessarily be the depth, it may be how fast it's flowing, because if it's where the water has breached the river banks then it generally does that in a fair rush."
However, roads reopened and evacuations were avoided as the heavy rain subsided.
"It seemed to come on very quickly then die down very quickly," Mr Oliver said.
"House evacuations that were going to go ahead never did in the end, so that was good, and by about midnight we heard the last of any major issues.
"I'm sure there are areas of surface flooding out there, but nothing that's causing any issues for us."
Mr Oliver said he was not sure if any houses had been damaged by flooding.
"There were a couple of properties that certainly had water flowing into them, but I'm not sure if anything breached into houses."
- NZPA, NEWSTALK ZB