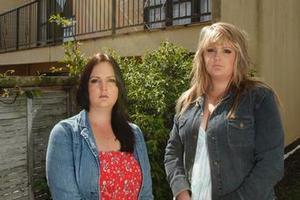 Sisters Michelle Gillard and Lisa Turner face uncertainty again after a 'fantastic' Court of Appeal ruling. Photo / Brett Phibbs
Leave is being sought to take one of New Zealand's most significant leaky building cases to the Supreme Court.
In a blow to leaky-building homeowners, David Goddard QC has sought a fixture to put arguments against the Court of Appeal's decision in favour of North Shore victims.
Mr Goddard represents Heaney & Co, acting for the North Shore City Council's insurer, RiskPool.
The Supreme Court will be the third court to hear the matter.
The marathon case is over who pays for repairs to the 14-unit Byron Ave townhouses in Takapuna and the 21-unit Sunset Terraces in Mairangi Bay, and has been running for two years.
Paul Grimshaw, Matt Josephson and Gareth Lewis of specialist law firm Grimshaw & Co represent most of the homeowners including 12 of the 14 owners of Byron Ave.
Mr Josephson said yesterday the progress of the case made it the country's single most significant weathertightness litigation.
Although the supreme and appeal courts had heard other leaky-building cases, those were procedural or on technical issues, he said.
"This will be the first time that a witness action trial decided in the High Court has been litigated through the Court of Appeal and now to the Supreme Court," Mr Josephson said.
"The other cases which have made their way through have been mainly strike-out applications."
The Supreme Court might hear the Sunset Byron case before the end of this year because Mr Goddard has indicated he is available for part of August, during September and November.
The appeal court heard Sunset and Byron together in September, and the Supreme Court is also expected to hear cases together.
Mr Grimshaw said the council's appeal would extend the misery of homeowners who faced another winter without a final outcome.
"This is putting the owners through the mill once again, but we'll get there."
The Turner twins fronted publicity on the Sunset case. Michelle and Lisa Turner were pictured outside the apartments but Michelle Turner had married while the litigation ran its course.
As Michelle Gillard, she said the Court of Appeal decision was a a fantastic result for her, her sister and all leaky home owners.
But she said she wanted to clarify that the twins were not represented by Grimshaw & Co.
"Lisa and I were represented at the Court of Appeal by Stephen Price at Minter Ellison,"
Others owners are represented by Grimshaw & Cos.
The case so far:
* High court ruling one
May 2008: Justice Paul Heath ruled against Shore developers Robert and Kay Barton over Sunset Terraces, where a $1.9 million recladding job is needed and $800,000 has already been spent on a patch-up. The Bartons say they have no money to pay.
* High court ruling two
July 2008: Justice Geoffrey Venning said the $2 million-plus he awarded to owners of the leaky 12-unit Byron Ave estate in Takapuna would most likely be paid by the council. The project was by architect/developer Stephen Smythe.
* Court of appeal ruling
March 22, 2010: After a hearing in September 2009, North Shore City Council's appeal was dismissed by three justices who found the council owed a duty of care to investor-owners and owners in large-scale developments where other building and property professionals were involved.
* Supreme court
This year: Due to hear North Shore City Council's arguments against Appeal Court decision.
The fate of thousands of leaky-home victims depends on the final step of a marathon case.