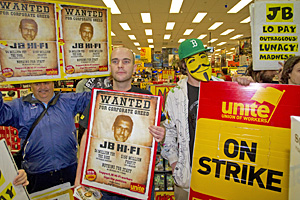 A labour union claimed a New Zealand first today as staff members picketed electronics retailer JB HiFi's store in Westfield's Albany Mall today.
The small picket of about 12 was held in support of the demands from Unite Union members at JB HiFi, who are seeking a pay rise.
"This is the first time that New Zealand workers have put up a picket line inside a mall," Unite Campaigns Officer Joe Carolan said.
"Mall workers have the right to join a union and a right to take strike action. We believe that under the Employment Relations Act they also have the right to picket their place of work."
However, the picketers were kept within the confines of the JB HiFi store and were not allowed in the common area of the mall by Westfield.
"It's private property and we invite shoppers in," Westfield public relations officer Deb McGhie said.
"If they are causing disruption to the centre and the quiet enjoyment of other retailers and shoppers we ask them to refrain or to step back."
They were allowed to protest in the area leased by JB HiFi, provided management of that centre were comfortable with them doing so, Ms McGhie said.
Mr Carolan said staff haven't had a pay rise in three years and earned $13.50 per hour, 75c per hour above the minimum wage. He said they were seeking a 50c per hour pay rise.
He said the Australian-based retailer was making record profits of about $140 million, a 29 per cent increase on last year.
JB HiFi's chief executive Richard Euchtritz last month said its New Zealand stores were not making any money.
He said New Zealand staff got a lot more than $13.50 per hour once allowances were factored in.
- NZPA