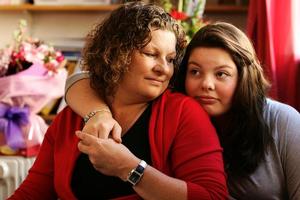 The mother of a gifted 15-year-old schoolboy who died after falling from an Auckland motorway overpass says her son had become consumed by constant text and Facebook messaging with friends.
King's College boarder Michael Treffers died on Monday night, a day after suffering severe head injuries when he fell from the Market Rd overbridge.
His grief-stricken mother Donna Treffers last night paid tribute to her "sensitive, articulate" son, who had won a scholarship to board at the exclusive Otahuhu school.
Treffers said: "He was an extremely bright boy. Michael always found the meaning of everything. He knew every word in that dictionary, he read it like a book."
Michael was the third King's student to die in as many months, prompting headmaster Bradley Fenner to write an open letter to parents and students.
He wrote: "I wish to emphasise at this point that the three deaths are unrelated. This has been a very tragic set of events, which has had a significant impact on the college community, and our focus has been on managing the situation and supporting the individuals most affected."
Treffers said it was vital for parents to talk to children about their problems - and discipline them where necessary.
"We are the adults and it is up to the adults to take responsibility and [not to] worry about guilt that their kids won't like them.
"They can hate us now, but they will love us later because we kept them safe."
Treffers broke down in tears as she spoke of the moment doctors told her of the severity of her son's injuries.
"He had no broken arms or broken legs. He had damaged his spine completely, he had one broken rib so I thought, 'We will have a kid in a wheelchair, we'd be fine with that'.
"But when the brain injuries were described I thought, 'That's okay, we can do that too, we still have Michael'.
"Then they were described as catastrophic brain injuries - that was what he was going to die from. It wasn't until that point when I said, 'Don't say that word die to me, about my boy.' I didn't want to know that ... no one wants to hear that."
Michael is believed to have slipped and fallen backwards from the overpass.
Treffers said she had become concerned about his relationships with his friends.
"As 15-year-old boys do, Michael wanted to tell everybody what they wanted to hear. I just explained to him, 'You need to do what you want Michael."'
The following day Michael was distant.
"We had lunch in a nice cafe. This is what we always do, we bond around food in our family, but he was distressed that there was no cellphone coverage.
"He seemed half there and couldn't wait to go home, to get that cellphone coverage going again."
She warned other parents of the dangers of mobile phones and social networking sites on emotionally fragile teenagers.
"For the sake of texting, for the sake of a Facebook message that he didn't even need, he didn't need to know that message 'tonight', it wasn't worth dying for.
"With Facebook you are letting people in, there is no control - and because kids are not emotionally equipped they are not capable of saying, 'I'll see you tomorrow'.
"They need to do it, turn that phone off, go and play, laugh and sing."
Michael's father, Alex, lives in Napier.
His sister Sophie, who turned 14 yesterday, said: "He used to play the guitar and I used to sing - we had so much fun, so many good memories. We were really close, we shared many in-jokes together."
Michael knew King's students William Thode, who died of a heart infection in February, and James Webster, who overdosed on alcohol earlier this month.
Treffers revealed her last words to Michael were: "Happy dreams, mate. Love you." He replied: "Love you, too, Mum."
Treffers urged anyone with problems to ask for help.
"It is so, so terribly important that even if one other person in New Zealand gets saved it's because they know they can talk to someone."
Police were investigating Michael's death on behalf of the Coroner.
WHERE TO GET HELP
Youthline
Support for young people and their families at youthline.co.nz; 0800 376 633.
Kidsline
Telephone counselling for children aged 9 to 13 at kidsline.org.nz; 0800 543 754 (4pm to 6pm weekdays).
Whatsup
Counselling for children aged 5-18 at whatsup.co.nz; 0800 942 8787 (noon to midnight).
The Word
Questions answered about sex, life and relationships at theword.org.nz.