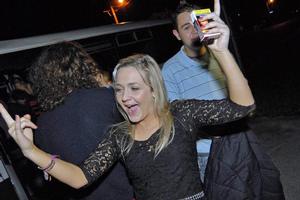 At least four after-ball parties have been axed as organisers run for cover after a police crackdown and concerns over teen drunkenness.
An official source last night told the Herald several South Auckland school groups had cancelled after-ball functions, and were "looking at options" for hosting their parties legally.
Another was cancelled in Christchurch yesterday after it was revealed students were being encouraged to get "crazy drunk" at it.
Zeesh Event Management's Chris Parker said several parent committees in Auckland had cancelled planned events which did not have the support of local authorities.
And last night, the acting principal of Baradene College in Remuera, Theresa Bosch, said it was "very hard to say" if a parent-organised, $75-a-head after-ball party - to be held at a secret location on June 11 - would go ahead. An announcement is expected today.
She earlier said the school did not condone after-ball parties "especially if there's alcohol involved".
In a letter to about 40 high schools last week, police warned they would not accept justifications offered for illegal after-ball functions.
Calling an event a "private party" or getting parents to sign permission slips did not legalise alcohol-laden bashes, they said. Nor did holding parties in secret locations.
Auckland Area Commander Inspector Andy Coster said last night it was encouraging that party plans were being re-thought.
"A number of organisers of these events seem to be responding to the message and are reconsidering their plans in light of the discussion that's been going on," he said.
Mr Parker welcomed the police clampdown on parties serving unlimited alcohol "that pose a major risk to students".
"There is definitely a need for a system that gives individual parents control of any alcohol being served to their children, provides regulation to suppliers in the industry and still takes a realistic view of teenagers' attitudes towards alcohol while keeping them safe," Mr Parker said.
He said Zeesh did not run after-balls and worked only with organised parent committees who fulfilled legal requirements.
In Christchurch, Lincoln High School parents have also stopped a planned after-ball at which students promised to "get buzzed, crunk (crazy drunk) and f***ed up", the Press reported.
A Facebook page advertised the June 25 event as a bring-your-own "night of mayhem", with DJs and security.
More than 300 people had confirmed attendance at the party, following the 500-ticket ball.
Another Auckland after-ball organiser, Ben Gaines, of NEEDaDJ, said parents had to give permission for their children to go to after-balls.
"If people like us didn't put them on, then where are the kids going to go? Because they're going to happen anyway."
Mr Gaines, who also runs sister company AfterBalls.co.nz, said at least three main companies in Auckland helped school groups - students and parents - organise after-ball parties.
The AfterBalls website has the words: "Fully Booked for 2010" splashed across the page.
Asked if alcohol was served at the events, Mr Gaines said he could not comment about that.
Mr Gaines would not identify the schools he was helping to organise after-ball functions, but praised the way in which they were being run.
"It's a hard line. I can see the negatives and I can see the positives, but until you've been to one ... you can see first hand what goes on and how many parents are involved."
A 17-year-old student wrote to the Herald last night, saying the crackdown on after-balls was ridiculous.
"If you take away the option for teenagers to have a safe, supervised event where alcohol is served, then you leave only one option open, which is to have those teenagers get drunk in an environment where they are not supervised, and the alcohol supply is only limited by the size of their wallets.
"I know that after-balls are illegal. I know they break the law. But they have always broken the law, so why must they start messing with them now?"