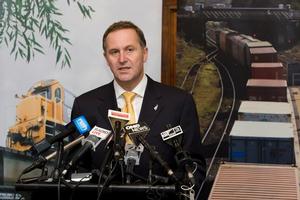 The Auckland to Wellington main trunk railway will become faster in a priority upgrade as part of KiwiRail's 10-year $4.6 billion turnaround plan.
The Government said yesterday it would provide up to $750 million to back the plan to build KiwiRail into a self-sustaining freight-based business. A further $3.85 billion is to come from KiwiRail's own profits.
Prime Minister John Key said this week's Budget would allocate $250 million to KiwiRail's turnaround, with another $500 million over the next three years.
While "not impressed" with the approximately $1 billion paid for the company by the previous Government, Mr Key said National was committed to turning KiwiRail around and making it work for the taxpayer and as an economic driver.
The further $500 million, "while committed in principle", would depend on KiwiRail meeting the Government's performance measures, Transport Minister Steven Joyce said.
KiwiRail chief executive Jim Quinn said the plan's key element "is to have a backbone that is strong, and the backbone is the Auckland to Christchurch link including the Interislander".
The initial focus will fall on improving the Auckland to Wellington route. KiwiRail hopes to reduce the duration of the trip from 13.5 hours to 11 hours, making the service more attractive to freight customers.
The time saving would allow overnight freight services to leave later at night and arrive earlier in the morning, thereby avoiding commuter services and improving the efficiency of both.
The upgrade of the Auckland to Christchurch route will also require increasing the rail capacity of the interisland ferries.
However, the focus on key routes means the future of minor lines - including North Auckland, Napier to Gisborne, and Northern Wairarapa - is uncertain.
KiwiRail will consult communities and customers over the next 12 months before deciding whether the lines should be mothballed.
The Rail and Maritime Workers' Union, which has been at odds with the Government over where Auckland's new electric commuter trains units should be built, said it was encouraged by the new funding, "and the apparent discounting of a future privatisation of rail".
But Labour's transport spokesman Darren Hughes said a $750 million investment looked "miserly when you consider Steven Joyce has committed $11 billion to build his 'Roads of National Significance'."
That charge was parried in the House by Mr Joyce, who said the $4.6 billion total investment under the plan compared favourably with roading investment, "when you consider roads currently carry 70 per cent of the freight".
The Numbers:
* $3.85b of Kiwirail profits to be ploughed into upgrades over 10 years
* $705m over three years from the state.
* 11 hours the Wellington-Auckland journey, cut from 13.5 hours