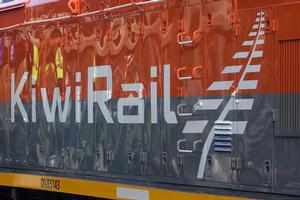 Transport campaigners are concerned that mothballing the rail line to Northland would reduce options for diverting freight from Auckland's congested Auckland waterfront.
KiwiRail yesterday disclosed that as part of its $4.6 billion "turnaround plan" - into which the Government will pump $750 million over three years - it is considering mothballing four under-used railway lines, including the link between Auckland and Moerewa.
Chief executive Jim Quinn said the company was responding to a signal by the Government, which owns it, "to focus the scarce capital we get into the most productive areas where the revenue is".
He denied that KiwiRail had an aggressive closure agenda, but expected all four lines to be mothballed by 2012 unless the communities they served could show ways of making them viable in the short-term.
Campaign for Better Transport spokesman Jeremy Harris said that would defy commonsense, given the potential for a large amount of extra business from a spur line to the port and oil refinery at Marsden Pt.
Although several tunnels would need widening before trains could carry containers to and from Northland, Mr Harris said that could be done for just a fraction of the cost of the 38km highway the Government wants to build between Puhoi and Wellsford for $1.53 billion to $2.04 billion.
He said sending containers to Northland would take pressure off Auckland's port, which faced growing demands for greater public access to the waterfront.
Northland Regional Council chairman Mark Farnsworth hoped to make a strong case for the Government and KiwiRail to take a long-term strategic view in keeping the line open.
Yesterday's announcement was principally about freight services, although the Auckland and Wellington regional councils are on notice from the Government that their ratepayers and commuters will have to pay more for track maintenance.
Transport Minister Steven Joyce said $7 million would be allocated in tomorrow's Budget to help to cover an undisclosed shortfall on passenger rail services in the two regions while rail access charges were being renegotiated.
The Auckland Regional Council fears not only that its annual bill for access charges may treble to $6 million, but also that it will be called on to contribute to loan repayments for the electric trains the Government has agreed to buy the region for $500 million.
Mr Quinn said KiwiRail intended to hold consultations over the next year with all communities likely to be affected by decisions to mothball the four lines on its list.
The others are the Stratford to Okahukura, Napier to Gisborne and Wairarapa lines.