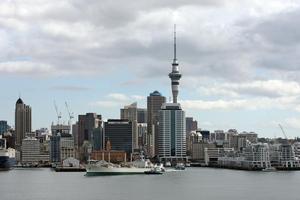 Next week a parliamentary committee reports its findings on the third, and final, bill setting up the Super City in Auckland.
It will give the Government one last chance to put right some of the glaring wrongs in its prescription for uniting eight local authorities into one.
Submissions to the Auckland Governance Legislation Committee highlighted concerns that the so-called council controlled organisations (CCOs), unelected companies which will run 75 per cent of council functions, would not be transparent enough or suitably accountable for their actions.
A Herald-Digipoll survey of Aucklanders found nearly 60 per cent were opposed to that level of council services being run by these types of companies, and only 32 per cent were happy with the move.
Further, the poll found 53.5 per cent of respondents believed the Government had not handled the Super City reforms well, against 32 per cent who were positive.
Those are not figures on which fundamental governance reforms with deep implications for democratic oversight can be based.
The Minister of Local Government, Rodney Hide, does not accept that the CCOs plan is deficient.
He says this bill establishes only two CCOs, that the Auckland Council will be able to control the CCOs' boards, that CCOs will be subject to the local government version of the Official Information Act and that many more little CCOs exist now.
However there will be up to seven CCOs, the council's real influence through statements of intent is hotly disputed, official information requests in these areas are often forlorn, many more functions are being put under CCOs at arm's length from voters and existing council companies are not necessarily exemplars of accountability.
Local Government New Zealand, whose members have worked with council companies for years, has urged change in the bill. Its select committee submission said accountability seemed "worryingly diffuse" in the proposed set-up.
"Transparency in the new Auckland [Council] will be significantly less than Auckland citizens have historically experienced and expected, and less than what citizens in other communities will continue to receive."
Decisions about what functions should be run by the council and CCOs should be "left to the new council to determine. Parliament is not well positioned to make these kind of decisions."
Worryingly, it predicted territorial fragmentation would be replaced by functional fragmentation.
An attempt to unite Auckland risks failing because of a divide-and-rule policy in its establishment. The reform proposed by a royal commission aimed to eliminate fragmentation, to improve decision making and accountability and preserve local democracy.
The Government should not be content with the status quo, either. To claim the official information law as an example of openness is to ignore the routine obfuscation, excuse of "commercial sensitivity" and delays endemic in almost all public bodies.
The committee examining the bill is led by National's John Carter, a pragmatist steeped in local government. He indicated to Local Government NZ that its concerns would be heard.
The committee should insert more explicit powers for the Auckland Council to direct, change, establish and disestablish, if necessary, CCOs and their functions.
It should make all the CCOs' decision-making board meetings open to the public, not just Auckland Transport's meetings when enacting bylaws.
It should reconsider the split of representation on these boards and the lack of influence from the Auckland Council's executives and elected councillors on issues such as transport.
Support for uniting Auckland, which seemed strong at the time of the royal commission and its extensive public submissions, has weakened. It can be restored, if the committee hears the concerns of the people.