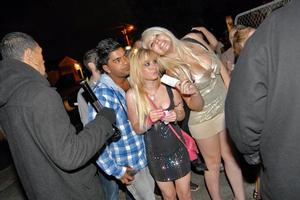 An under-aged drinker whose photograph - with that of other revellers - was splashed across the pages of the Herald on Sunday says she doesn't need to drink to have fun.
The girl, who identified herself only as Alana, yesterday admitted to NewstalkZB host Leighton Smith that she had been drinking before she turned up to Pakuranga College's after-ball at the weekend.
The 17-year-old, who does not attend the college, was among up to four bus-loads of teenagers who headed to the secret location for an all-you-can-drink party.
"That was one of the perks of the night," she said. "But it didn't quite work out that way."
Police were at the scene before the party was set to start. Shortly after, a van loaded with alcohol departed.
Alana said although it was "a bit of a bummer" that there was no all-you-can-drink alcohol - as promised as part of the $55 after-ball cost - she understood why police took the action they did, given the death of 16-year-old King's College student James Webster after drinking from a bottle of vodka the previous weekend.
"It was still fun without that - we didn't exactly need that to have a good night," she said.
"I can see where they're coming from with it and I understand. Especially after the death of that young boy."
Alana, who is currently organising her own school after-ball, said she was now looking into putting together a non-alcoholic after-ball party.
"I'm just going to see what the vibe is around it, see if people are willing to pay maybe a bit less ...
"I don't really want to promise them alcohol if I can't say that there is actually going to be alcohol there."