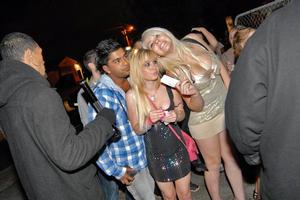 A high school after-ball party with a van-load of alcohol was busted by police and liquor licensing inspectors in an early morning raid today.
Students from Pakuranga College paid $55 for the event which was held in a vacant Onehunga warehouse.
They turned up to find the party was still on - but any chance of drinking booze had been canned by Manukau District Licensing Agency inspector Paul Radich. "It is mission accomplished," said Radich, after speaking to party organisers.
The party was to cater for an estimated 500 students after the official school ball at the Ellerslie Convention Centre finished at midnight.
Radich went into the warehouse about 30 minutes before buses were due to arrive. He emerged, saying: "It is now an alcohol-free event."
A large white van left the warehouse, driven by an adult who was said to be the parent of a Pakuranga College student.
The back of the van was jammed with mainly ready-to-drink spirit mixes and beer.
The van returned to park opposite the warehouse shortly after the party was due to start. Radich intervened and the van containing several pallets of alcohol was removed again.
Students appeared angry at the change in plan. One drunk teenage boy said: "I'm going to complain about no f***ing alcohol."
A student spat at media watching students arrive.
Just an hour after arriving, students were leaving again. One said: "It's pretty lame in there. There's no alcohol. We were told $55 for all you could drink and now we're only getting coke. We're going into town."
Large numbers of police were at the ball.
After the alcohol was removed, police cars followed the buses to make sure students still headed to the alcohol-free event.
Radich said the proactive crackdown on underage and unlicensed boozing was because some school principals didn't get the message.
"This year we got our act sorted earlier and got together with principals in February," he said.
"We told them the law, and tried to get across that the ball should be the event - and not an unregulated after-ball. That hasn't happened, and so it's now up to us."
Radich said the alcohol-free event was preferable to another "out of control" after-ball function.