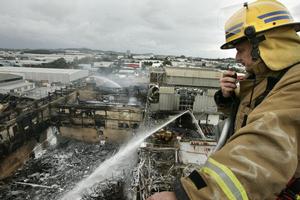 A massive blaze at an Auckland industrial site was probably caused by arson.
More than 120 firefighters and 30 appliances attended Friday night's fire at the old Southdown freezing works in Penrose, the second in 18 months. Yesterday more than 80 firefighters were on duty as the fire continued to burn.
"The preliminary view is that it was most likely arson," said John Sax, the multi-millionaire developer who owns the site.
"It could have started over a number of floors, and there's virtually no way for that to have occurred, there was nothing of any electrical nature there."
Sax, founder of the For The Sake of Our Children Trust, said the complex was fenced and under constant security. It appeared an accelerant was used. "It's not easy to get into that area so someone would have had to go to some degree of effort to get into that sector."
Incident controller Kerry Gregory said firefighters were getting the blaze under control and the cause would not be confirmed until after investigators went in this morning.
"We are aggressively fighting the last deep-seated pockets of fire," he said.
Gregory said crews had prevented the fire spreading to businesses on the site. There was asbestos in the building but health officials had assessed the risk and were not worried.
The complex was the site of another huge, suspicious fire in 2008, which firefighters battled for almost a week.
About two-thirds of the buildings on the site were destroyed in the last fire. Sax said the rest were scheduled to be demolished but his company, Southpark Corporation, had hoped to salvage large amounts of native timber and bricks.
Several Jaguar and Daimler vehicles were destroyed in the fire. Sax said they were likely being used by a tenant who scrapped old cars and supplied their parts to motor dealers.
- ADDITIONAL REPORTING: NZPA