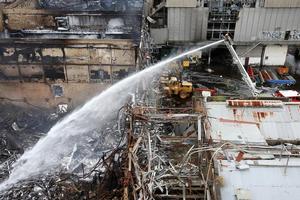 The Fire Service is scaling down operations at a large fire in an industrial area of Auckland.
Firefighters poured tens of thousands of litres of water per hour onto a burning building in Penrose today.
At its height there were 30 fire appliances at the site and 120 crew.
Fire Service spokesperson Denis O'Donoghue says there are now 14 appliances at the site with 50 firefighters on deck.
He said firefighters had been wetting the area down as diggers have progressed through a large part of the burnt-out area.
The fire at the abandoned freezing works buildings at Southdown in Penrose is one of the biggest in Auckland for several years and ripped through buildings after the alarm was raised about 8pm last night.
A large section collapsed and firefighters were working to stem a blaze in the basement.
Incident controller, Kerry Gregory, said firefighters would face a demanding day today and although the fire was under control, it was regularly flaring up and required additional resources.
"We are aggressively fighting the last deep-seated pockets of fire. Two diggers have been called in to clear some of the rubble so that the fire can be reached from above by the aerial appliances. We also have crews working inside the parts of the building where it is safe to make access."
At the height of the fire overnight more than 120 firefighters and 30 appliances were at the old freezing works. Appliances were called in from all over Auckland and every aerial ladder in the city, and one from Hamilton, were pressed into service.
Today more than 80 firefighters were being rotated through the fire ground and given time to rest with the next shift due to more onto the site late this afternoon.
"The fire spread is across all four floors of an old cool store and we have managed to prevent it from spreading to businesses which operate on the site," said Mr Gregory.
He said fire investigators had done some early work and would return tomorrow for a more detailed examination.
Asbestos was in the building but firefighters said the fire scene was well clear of homes.
The Regional Public Health Service had assessed the risk to the public as low and the Fire Service said health officials had no concerns for the safety of the public.
However, Auckland Medical Officer of Health Andrew Lindsay told One News people in the affected area should avoid inhaling dust or debris from the fire.
"We know the building has materials containing asbestos. We are conducting environmental tests...to assess the risk to populated areas," Dr Lindsay said.
Smoke from the fire was being blown across scrubland and out over the Manukau Harbour. Rain also helped to dampen down the dust.
- NZPA, NEWSTALK ZB