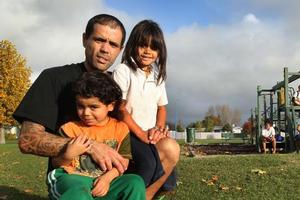 Black Power members say they are keen to track down the attacker of a 4-year-old boy so they can deal to him before police do.
Police believe the young man, who allegedly prodded and tore the red shirt off a preschooler in a Whakatane park last week, was believed to be a "wannabe" gang member. Red-coloured clothing is associated with the Mongrel Mob gang, fierce rivals to Black Power, who consider Whakatane their home turf.
The alleged attack brought widespread condemnation from the Whakatane police and community. Yesterday, former and current members of Black Power added their criticism.
Ex-member Paku Waara said gang members were itching to "give [the young man] a hiding" for bringing shameful, unnecessary attention to the group.
"It gives them an even worse name, and brings police around knocking on their doors." Mr Waara, who lives opposite the reserve where the boy was harassed, took a day off work yesterday to look after his children.
"There's just a bit of a bad feeling about the place this week.
"My kids run out on to that park every chance they get, and I wanted to be near them."
He said he quit the gang 14 years ago because he did not want his children to have the same "dark" start to their lives as he did.
Another Black Power member said the unprovoked attack was beneath the gang's code. He said when a gang-affiliated member stepped out of line, the usual practice was to get another member to "rough him up".
Eastern Bay of Plenty acting area commander Greg Sparrow said that regardless of the seriousness of the incident, police did not condone violence or members of the public taking the law into their own hands.
"This is an active investigation that Whakatane police are treating with some urgency, and we are following some strong leads."
Police said the family was shaken by the incident.
Mr Waara said the finger could not be pointed solely at the young man.
"It starts at home. For all we know his father was the one who encouraged that sort of behaviour."