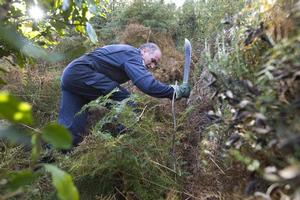 The Army has been called in to help with the search for missing Christchurch woman Emma Campbell, although her family now fear the worst, police say.
Mystery remains over what has happened to the 29-year-old carer, whose 1994 Toyota Corona ran off the road and down a bank "in a very low impact crash" in Christchurch's Ports Hills 11 days ago. Her shoes lay nearby.
Police are now looking for a body, and yesterday searchers began clearing dense vegetation around the car in a last-ditch effort to ensure she is not concealed near the crash site.
Her disappearance is considered either the result of an accident or an intentional act by Miss Campbell or someone else. However there is so far no indication of any criminal act.
For Miss Campbell's family, who have made public pleas to find her as well as mounting their own searches, almost all hope of seeing her alive again has faded.
"I think, for the main part, they realise she's most likely to have died up there [in the Port Hills], or died somewhere," inquiry head Detective Senior Sergeant John Rae told the Herald.
"After the huge effort they have put in, they have driven themselves into a standstill, and they are really just trying to regroup and get hold of their own families and rebuild their lives. They have done all the searching they can."
Searchers cut away the thick scrub near Miss Campbell's car yesterday to make sure nothing had been missed, but late yesterday had found nothing.
"It's pretty thick, pretty entangled, and given the clothing Emma was wearing - it's muted green and fawn tones, which is obviously very similar to the type of foliage that is there - it will take some time to do it thoroughly."
Police had identified a man in a white car seen near where Ms Campbell's car went off the road. He was to be interviewed yesterday, but police do not believe he knows what happened to Miss Campbell.