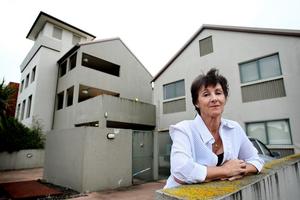 Owners of a 32-unit Auckland leaky apartment block are considering demolishing the complex because it is so riddled with defects.
In what is shaping up to be the largest destruction of a leaky housing block, owners of the West Auckland building say they have hit a bureaucratic brick wall.
Pepperwood Mews is a Kelston art-deco style complex leased to Housing New Zealand. But it has stood vacant since October because it is structurally unsafe. Walls are cracking, walkways are sagging, it has sewerage and drainage problems and its lift is acting as a well, owners say.
The five-year-old complex at 4045 Great North Rd is no longer considered fit for habitation.
Judy Anderson, a unit owner and owners' representative, said the investor owners' two years of trying to negotiate with the Government had failed.
"We are getting advice about whether this should be demolished or fixed and the advice is pointing strongly towards it needing demolition because the foundations have not been built according to plans," Mrs Anderson said.
"It's as bad as it can get. There is movement in the building which exceeds the norm."
Labour list MP and housing spokesman Phil Twyford, is to speak to a rally at the block at 11am on Friday when the owners hope to raise the profile of their fight.
"Housing NZ ... used a kind of public-private partnership and it's unacceptable for them to wash their hands of it," Mr Twyford said.
Owners bought the complex for combined total of about $8 million, and had spent more than $300,000 on reports and expert opinions," Mrs Anderson said.
Five reports were prepared, two by Housing NZ and one by the Weathertight Homes Resolution Service.
Building Minister Maurice Williamson this year said he was returning to the Cabinet to discuss the crisis, estimated by PricewaterhouseCoopers in December to cost $11 billion to $22 billion to fix.
Housing NZ has stepped away from any involvement with Pepperwood Mews. Late last year, its general manager of assets, Kevin Mara, said Housing NZ did not accept liability for the structural or weathertightness problems.
"We don't own the building, we don't own the land, we didn't design or build the building. Our involvement has been to lease 32 units in the complex from private owners."
Pepperwood Mews:
* The West Auckland leaky apartment block's future is in doubt.
* Walls are cracking, walkways sagging and there are sewerage and drainage problems.
* The 32-unit block was evacuated seven months ago.
* State tenants once lived there.
* The private owners have failed to get money to fix the complex.
* Rally there Friday 9-11am for support.

* Public rally for leaky-building justice, Pepperwood Mews, 9-11am on Friday, 4045 Great North Rd, Kelston.