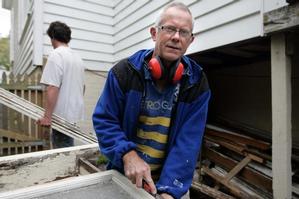 Home improvement is a national pastime in New Zealand, but DIY could actually be slashing your property's value.
Badly done do-it-yourself jobs can reduce a home's value by as much as 5 per cent, a survey has found.
Wayne Boberg, of Boberg First National in Epsom, said: "If it's obvious, it's a bit like a leaky home - there's not a buyer for it anywhere. Nobody wants to know."
John O'Roarke, managing director of LV= home insurance which commissioned the survey, told Britain's Daily Telegraph that not only could bungling DIY jobs devalue your home but, if they caused a serious problem, they could invalidate your home insurance cover.
Certified builder David Brown says the problem with DIYers is they often take shortcuts. "These guys don't realise that even if you don't need a consent, you still need to build in accordance with the Building Act."
And as home buyers are increasingly getting professional building inspections before they put in an offer, shoddy DIY jobs are no longer going unnoticed, says Brown.
"If someone's wrecked a nice house by doing a cheap extension, it does devalue it because it just screams 'that wasn't done properly'."
Brown advises DIY enthusiasts to get advice from a professional, find out what the legal restrictions are and be realistic.
"If you're not sure you can do it, then don't. Get professional advice - if you've got a friend who's a builder, give them a couple of dozen beers and get them round for a chat about it. And if you do get into strife, don't be afraid to ask for help."
Andrew Chisholm, chief executive of home maintenance company Hire A Hubby, says DIY disasters occur because people these days often don't know what they're doing.
"The skills haven't been passed down through the generations like they used to be," says Chisholm. "It's probably in Kiwis' nature to back themselves to do something - but then it's not quite as straightforward as what they might have thought."
Builder Mark Welham of Auckland's Humming Builders says he comes across examples of shoddy DIY constantly, with the most recent example a wall that had been lined with plaster board so badly it looked like a patchwork quilt.
Damage often subtle
Auckland builder Sandy Pyne has seen his fair share of DIY disasters.
The damage done by shoddy DIY jobs, says Pyne, can be subtle to the untrained eye so it's important to check out renovated homes thoroughly before buying.
"With renovated homes, we can tell if something hasn't been done to a good standard quite quickly but the general public might not be able to."
Pyne once repaired a shower that a DIY enthusiast had installed without removing the base's protective plastic coating.
"Once that plastic coating lifted, water was being sucked up under the back of the shower," says Pyne. "After a year it had trashed the floor and the whole thing had to be pulled out - it was an absolute mess. That cost them thousands of bucks."
Pyne doesn't want to discourage DIYers but says it's essential to get advice - the legal requirements of home improvement can be complex.
DIY tips:
* Know what the legal restrictions are.
* Talk to your local council to see if you need a building consent.
* Work in a logical sequence to avoid damaging work already done.
* Make sure exposed surfaces are protected.
* Work through the rooms in a systematic way.
- Consumer Build website