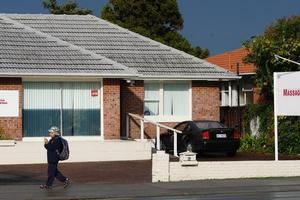 Waitakere MP Paula Bennett is seeking advice on whether a local body solution can be found to remove a brothel across the road from an intermediate school.
The board of trustees and some parents of children at Henderson Intermediate are dismayed about the brothel, which been opened opposite the school, attended by 500 pupils aged 10 to 12, on Lincoln Rd.
The Government does not intend to change the Prostitution Reform Act, so Ms Bennett, who met school officials last week, is investigating what could be done before the Super City comes into effect in November.
If the Waitakere City Council enacted a bylaw restricting where brothels could be, it would be rolled into the new Super City Council with all territorial bylaws and district plans.
Board of trustees chairman Ron Crawford and school principal Bruce Dale contacted local MP Chris Carter but, dissatisfied with the response, they then met Ms Bennett.
Local Government Minister Rodney Hide wrote to Ms Bennett, saying the presence of the brothel "does not warrant wholesale review of the current legislation".
"I consider that councils currently have sufficient tools to regulate brothels, should they and their community wish to," he said.
Ms Bennett said she would meet the Auckland Transition Agency, responsible for setting up the Super City, and Waitakere deputy mayor Penny Hulse to see if it was possible for a bylaw to be pushed through between now and local elections in October.
"I sympathised with the situation," Ms Bennett said.
"The only real answer is if there is room for the council to make a bylaw and I'm not sure they can."
Ms Hulse did not know if there was any feeling among the council for a bylaw.
The council treated small brothels like any other business operating from home under its district plan.
"Why would you treat a physiotherapist [working from home] differently from a brothel? These are very delicate points of law."
A new bylaw would have to prove that a brothel caused a nuisance, created a public health or safety issue, or was going to lead to offensive behaviour in public places. Morality did not come into it.
Mr Crawford criticised the council and Ms Hulse for "dropping the ball".
"There just seems to be an absolute lack of leadership. The deputy mayor is basically happy to have brothels across the road from schools and kindergartens.
"I don't think she's in touch with the communities."
Ms Hulse said she understood the school's concerns, but "the last thing I want to do is to make empty promises".
LOOKING FOR ANSWERS
GOVERNMENT
* Law doesn't need to change.
* Local authorities can regulate.
WAITAKERE CITY COUNCIL RULES
* Brothels with more than four sex workers must be in commercial zones and away from the street.
* Conditions apply for smaller brothels, including hours of operation, noise, traffic, signs.
THE PROSTITUTION REFORM ACT
* When assessing a brothel, the local council must consider whether the business is likely to cause a nuisance or serious offence to the public.