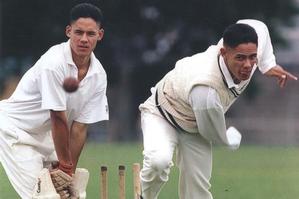 Under-fire 1st XV rugby coach Tai Lavea, who was suspended for poaching a top player from another school, was himself plucked from South Auckland as a youngster to the exclusive school he now works for.
Lavea, the twin brother of former Blues and Melbourne Storm player Tasesa Lavea, has been banned from any match-day involvement with the St Kentigern College 1st XV after he was found to have breached recruitment bylaws to poach a player from Aorere College in Papatoetoe.
Lavea is no stranger to transfer controversy, having won a St Kentigern scholarship with his brother - for cricket - while he was a Papatoetoe High student in the mid-1990s.
St Kent's has also been responsible for taking the talents of future All Blacks John Afoa, Joe Rokocoko and Jerome Kaino - all on scholarships - from their South Auckland schools.
Papatoetoe High associate principal Vaughan Coillault said the cherry-picking of the Lavea brothers, two of his school's top sporting stars at the time, had been disappointing.
"But I think it would be a bit of a stretch to suggest that these two young men had been poached," he said.
"They were given an opportunity and they chose to go ... I'm not sure whether they would have been able to afford the fees at the school and they otherwise probably could not have gone there."
Mr Coillault thought the current and more stringent rules regarding player-poaching created a more level playing field and meant young athletes would stay and contribute to their own communities.
But James Cook High School principal Bryan Smith said the practice would continue.
"The thing that really bothers me about all of this is the attitude of fellow principals who actually condone this," he said.
"I can see it from the point of view of the family ... We don't provide any special support for the students and suddenly they get an offer like that boy at St Kent's, which is probably free board and uniform."
De La Salle College rugby administrator Nigel Hurst said "massive numbers" of players from South Auckland were being lured to more affluent schools elsewhere in the city.
He was concerned that many were being taken for their rugby-playing abilities and not to further their education - one of his own players asked to come back when he did not pass NCEA level 1 at his new school.
"We have one of the best NCEA records in South Auckland and yet parents still don't see us as a viable alternative," said Mr Hurst.
De La Salle is a decile-1 school with a roll of about 800. Since 2002, it has finished in the top four of Auckland rugby's senior secondary schools competition six times and has won two national titles.
"We have done that by coaching what we have got, not by going out and taking players from here, there and everywhere," said Mr Hurst.
ASB College Sport chief executive Manoj Daji said 2010 had been relatively quiet in terms of player-poaching investigations, with just one mediation held this year.