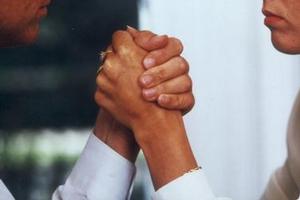 The number of divorces in New Zealand has dropped to a 20-year low, Family Court figures show.
The court granted 8700 marriage dissolution orders last year, the lowest number since 8600 in 1989, and below the annual average of 10,000 divorces between 1999 and 2008, said population statistics manager Denise McGregor.
The divorce rate - divorces per 1000 marriages - was 10.2 last year, the lowest rate since 1980, when the Family Proceedings Act was passed.
The number of divorces rose sharply after the passing of the act, which allowed for the dissolution of marriage on the grounds of irreconcilable differences, and peaked at 12,400 in 1982.
The latest drop in divorces follows overseas trends. In 2008 divorces in England and Wales fell 5 per cent from 2007. Divorces in Australia fell 2 per cent in the same period.
The chief executive of Relationship Services, Jeff Sanders, said mAny people did not realise some free counselling was available when their relationship was in trouble.
"We have seen a significant increase in the number of people seeking counselling through the Family Court over the past year."
The largest provider of professional counselling and relationship education, the service said it provided couple counselling to 16,600 people last year.
Its figures showed 6700 children under 17 were affected by their parents' divorce last year and 3200 of them were under 10.
"When couples with children separate or divorce, it's really important that they separate 'well'," Mr Sanders said.
The statistics also showed about one-third of Kiwis who married in 1984 had divorced before their 25th wedding anniversary.
Last year, there were also 16 dissolutions of civil unions, too small a number to compare with the proportion of divorces.
The figures showed 21,600 marriages were registered in New Zealand last year, down 1 per cent from the year before.
That was due to fewer remarriages as the total of first marriages was unchanged from 2008, at 14,800.
The general marriage rate, or marriages per 1000 unmarried adults, was 13.2 last year, down from 16.1 in 1999.
The latest rate is less than one-third of the peak level of 45.5 per 1000, recorded in 1971.
The falling marriage rate was put down to the growth in de facto unions, a general trend towards delayed marriage, and more New Zealanders remaining single.
DIVORCE
* 8700 last year, the lowest since 1989.
* 12,400 in 1982, the highest recorded.
* 10,000 a year between 1999 and 2008 (average).
MARRIAGES
* 21,600 registered last year, down 1 per cent from the previous year.
* 13.2 per 1000 unmarried adults, down from 16.1 in 1999.
* 45.5 per 1000 unmarried adults in 1971, the highest recorded.
- NZPA