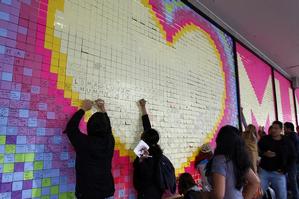 It's Mother's Day on Sunday and hundreds of people have already paid tribute to their mothers on a giant post-it wall in central Auckland.
Up to 8700 colourful post-it notes cover the windows of the Whitcoulls store on Queen St in honour of mothers.
With a large heart and the word "mum" sprawled across almost 50sq m, billboard is a place for passers-by to pay a post-it-sized tribute to their mother in the form of a poem, message or drawing.
Anyone who writes a message goes in a draw to win gifts for their mother throughout the week.
Grateful offspring have until the end of the week - including Mother's Day - to post a message.
For more information and to see the post-it wall, go to ilovemum.co.nz.
- NZ HERALD STAFF