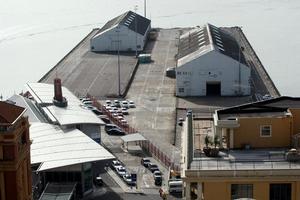 The future of the two cargo sheds on Queens Wharf was a sticking point in talks yesterday between the Historic Places Trust and the Auckland Regional Council.
The two sides met for two hours to ensure historic features were protected and promoted in the development of the wharf.
ARC chairman Mike Lee said that although most of the debate had been on the two 98-year-old sheds, the council and trust were also focusing on other historic features, including the bollards, rail tracks, and the Red Fence.
"In an ideal world the trust would like to see the sheds stay," he said.
"The ARC would like to see the sheds go to open up views of the harbour and provide space for a new cruise ship terminal building which will be the heritage of the future."
Mr Lee said the parties were working to try to resolve the differences. Several options were being explored to come up with a creative solution.
After months of wrangling, Rugby World Cup Minister Murray McCully and Mr Lee announced plans two weeks ago for a $9.6 million temporary structure at Queens Wharf as a fan zone for the cup and a temporary cruise ship terminal.
The regional council approved "dismantling" of the sheds and reusing some of the materials, subject to consultation with the trust and the completion of a heritage assessment of the wharf and its structures.
Councillors Sandra Coney, Christine Rose and Joel Cayford voted against the plan.
Opposition to removing the sheds, has grown, and includes a Save Our Sheds campaign run by the Auckland Architecture Association.
The Auckland City Council has put up $26 million to restore the sheds. Heart of the City chief executive Alex Swney also wants to keep them.
Mr Lee said the problem with restoration was that Shed 10 on the eastern side would need to be bigger and probably higher to be a cruise ship terminal, which would mean substantial alteration. Also, the sheds were in bad condition.
The temporary structure will cover 6000sq m. Shed 10 covers about 5200sq m over two floors.
Auckland Architecture Association spokesman Adam Mercer said the condition of the sheds and flooring shortfall of Shed 10 was no reason to demolish them.
He said the cladding and roofing was in poor condition, but the sheds were structurally sound and could be restored and added to.
"How many New Zealanders would demolish their house to add another bedroom?" Mr Mercer said.
Trust northern regional manager Sherry Reynolds was at the meeting, but could not be contacted later.