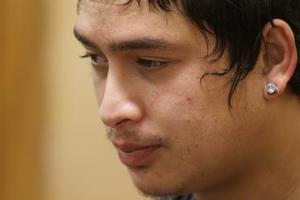 The family of an up-and-coming Maori leader killed in a pub assault are astonished that his attacker has been bailed to live with his family.
Isaiah Johnson Richard Tai, 21, pleaded guilty to killing Hawea Vercoe, the 36-year-old principal of Te Kura Kaupapa o Te Rotoiti school and a Maori seat councillor at Environment Bay of Plenty.
Mr Vercoe, a father of six, died from bleeding to the brain after Tai punched him from behind at the Quart House Bar in Whakatane, causing him to strike his head on the footpath.
Tai had appeared in the High Court at Rotorua yesterday to set a date for a murder trial, but instead pleaded guilty to manslaughter.
Mr Vercoe's family had requested that Tai undergo restorative justice so that his children could confront their father's killer.
But they did not count on him being released to live with his parents in Opotiki.
Hawea's mother, Rosalind Vercoe, visibly upset, expressed disbelief over the judge's decision.
"We had been led to believe he was going to prison today. But he's going home. I think that is beyond the pale."
Rihi Vercoe, Hawea's aunt, said she was disgusted that Tai wasn't locked away. She felt Tai had no grasp of the seriousness of his offending, and had "pleaded guilty to get less time in jail".
Justice Priestley called for a packed gallery to keep their emotions in check after Tai's previous appearances had resulted in heated exchanges between his and Mr Vercoe's supporters.
A large group of Mr Vercoe's whanau wore dark shirts emblazoned with his face.
As Tai stood with his head bowed in the dock, the court heard that on November 22 he had gone with friends to drink at several bars on the Strand after attending a kick-boxing competition.
After attending a concert, Mr Vercoe was drinking at the Quart House Bar, where he crossed paths with Tai as the pub was closing at 2am.
Shortly after speaking to a woman at the bar, Mr Vercoe and Tai, who did not know each other, exchanged words.
When Mr Vercoe turned away and walked towards a pedestrian crossing, the 21-year-old ran at him and punched him with a closed fist in the back of the head. He was knocked unconscious as his head hit the concrete.
Tai allegedly yelled at Mr Vercoe "I'm not finished with you yet".
Witnesses claimed that Tai ran at the prone Mr Vercoe and kicked his head "like a rugby ball".
He died from bleeding under the surface of his brain, which was caused by the initial punch.
Tai's friends were believed to have said to other bystanders that Mr Vercoe deserved the beating.
Justice Priestley said he remanded Tai on bail because restorative justice, including a conference with Mr Vercoe's children, would be helpful to the victim's family.
Mr Vercoe's widow said her eldest daughter Moerangi had asked to speak to Tai "to tell him what she's lost".
She told the Herald she had accepted the manslaughter charge because it meant her children would not have to endure a trial.
"The sooner we can get on with this the sooner he will be in jail. We are all hurting."
Her eldest and youngest children attended court yesterday, but their mother said the other four children stayed away because they "don't want to see [Tai] ever again".
Tai's father said outside court that the last few months had been very difficult. But he said he was happy to have his son's company for another month before he faced a lengthy jail sentence.
Tai will be sentenced on June 2. His bail conditions mean he can only leave home to meet his lawyer or to attend a restorative justice conference.