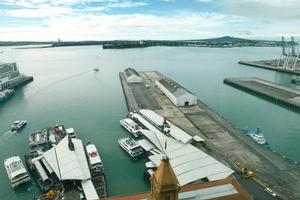 ARC chairman Mike Lee has called the sheds 'cheap and nasty when they were built and now they are old and cheap and nasty'. Photo / Brett Phibbs
The Auckland City Council has put up $26 million to restore the two 98-year-old cargo sheds on Queens Wharf - eight days after Rugby World Cup Minister Murray McCully said they would be demolished to make space for a temporary structure.
Mayor John Banks yesterday urged the Government and the Auckland Regional Council to consider revamping the sheds instead of "turning them into firewood and replacing them with a temporary quick fix".
"I am committed to preserving this city's architectural heritage. I acknowledge some of the public do not have a problem with pulling down the old sheds but once they are gone, that's it," Mr Banks said.
Opposition is building to the plan to remove the two sheds for a $9.6 million Government-funded temporary structure as Party Central for the cup and a cruise ship terminal. The regional council will pay a further $13.4 million to strengthen and landscape the wharf.
Pressure is mounting on the Historic Places Trust after the national office in Wellington took a different tack from its Auckland office, which was considering saving the sheds.
Auckland City councillor Mark Donnelly, who yesterday convinced colleagues to keep $26 million in the council budget to preserve the sheds, said they did not need to be demolished for the cup or a cruise ship terminal.
"People are judging Shed 10 [the bigger of the two sheds] as it stands today. You only have to look across the road at the old Central Post Office to see how it was converted, with its glass atrium addition, into the Britomart train terminal, or at Wellington to see how it has preserved its waterfront heritage," Mr Donnelly said.
Mr McCully was on his way to Pohnpei in Micronesia and could not be reached for comment.
ARC chairman Mike Lee dismissed the "phoney gesture" as being about Mr Banks' Super City mayoral campaign.
He said the money "recommitted" by Mr Banks and his Citizens & Ratepayers followers was significantly less than the $56 million the city council put aside last year for a new cruise ship terminal.
It was hypocritical, he added, of Mr Banks and his C&R-dominated council, who were planning to put a wrecking ball through two Art Deco-style buildings the city council owned on Wynyard Point and obstructing ARC attempts to classify them and others in the Wynyard Quarter as character buildings.
Mr Lee has labelled the sheds "cheap and nasty when they were built and now they are old and cheap and nasty".
Adam Mercer, a spokesman for the Auckland Architects Association that is campaigning to save the sheds, welcomed a political debate about the possible reuse and suitability of the "grand structures".
Heart of the City chief executive Alex Swney applauded Mr Banks and Mr Donnelly for letting the sheds "live another day".
Queens Wharf is one of the first issues to divide the two declared candidates for the Super City mayoralty - Mr Banks and Manukau Mayor Len Brown.
Mr Brown said the sheds were "hardly an architectural gem" and supported a temporary "Party Central" venue for Queens Wharf.

Heritage landmarks:
* The sheds are 98 years old.
* Auckland City has set aside $26 million to restore them.
* The Government plans to bulldoze them and put up a $9.6 million temporary structure.