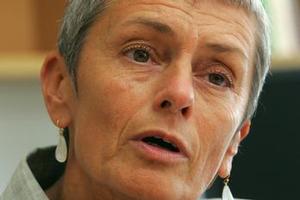 The former boss of the Auckland War Memorial Museum racked up almost $50,000 in international travel and spent more than three months abroad in her troubled two-year tenure.
Vanda Vitali made 10 international trips to locations including New York, Amsterdam, LA and Paris between February 2008 and July 2009.
Her travel was paid for from museum funds, the bulk of which come from ratepayers across the Auckland region.
The total distance - more then 172,000km - means she travelled far enough to go around the world every 118 days.
The Herald on Sunday understands the figures - cost, kilometres and days abroad - far exceed those of her predecessor, Rodney Wilson.
Vitali was appointed director in September 2007, resigned in March this year, and left earlier this month under a cloud.
Neither Vitali nor the museum board have spoken of the reasons for the resignation. She is understood to have recieved a golden handshake.
When told of the distances and costs involved, chairman of the Auckland Mayoral Forum Mark Ball, said: "Shivers. Shivers. That's more than I travel as mayor."
Ball, Franklin Mayor, said he would raise the issue of travel and supervision by the museum board at the forum's meeting.
Details of Vitali's travel were released under an Official Information Act.
The museum was also asked for any written reports prepared by its former director as a result of her globetrotting.
Museum compliance and contract manager Megan Salt said none had been written.
Museum communications director Russell Briggs said: "The management team was the beneficiary of extensive verbal debriefs."
The board said it was advised of all Vitali's travel but refused to say whether the cost was an appropriate use of ratepayer money.
"This is an employment matter and can't be commented upon," it said in a written statement.
Attempts to contact Vitali were unsuccessful and the museum refused to put the Herald on Sunday in touch with her.
The board said she kept costs down by not flying business class and often staying with friends on her travels.
But a museum worker, who did not wish to be named, said Vitali's travel jarred with staff.
"Her travel was occurring in a period where travel was halted for everyone else - hardly anyone was going to conferences, or doing fieldwork abroad."