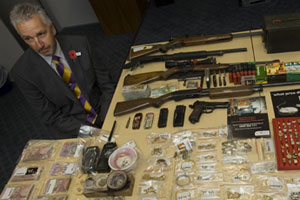 Melted gold, diamonds and luxury watches worth more than $100,000 were found at the second-hand shop of a middle-aged married couple at the centre of an Auckland-wide police sting of burglars and pawn dealers.
The couple were arrested and charged with receiving stolen goods as part of Operation Castle which netted cannabis, cash, jewellery, drugs, televisions, stereos, laptops, cellphones, camcorders, firearms and $300,000 of expensive watches.
Police made 47 arrests over two days in a swoop on second-hand dealers trading in stolen goods and jewellery - particularly gold - and on known burglars.
Detective Inspector Greg Cramer said police were still calculating the total value of the goods items seized but the drugs were thought to be worth about $400,000 and the cash and jewellery was valued at $300,000.
Four people from three pawn shops in Avondale and West Auckland were arrested.
The Weekend Herald understands one of the biggest hauls was at an Auckland second-hand shop.
A married couple were found with thousands of dollars in cash, gold worth more than $100,000, diamonds and watches, one worth more than $10,000.
The pair will appear in Waitakere District Court next week.
Police had been analysing intelligence and carrying out surveillance over six months.
Of the 858 licensed second-hand dealers in the Auckland region, 115 had raised police concerns.
"The huge variety of goods turned up is probably a clear indication that drug crime, burglary and dishonesty are linked," Mr Cramer said.
"I think the operation will have created quite a dent."
He said burglars had to have avenues of disposal for goods they stole.
"What we have done here is really choked the avenues for disposal."
Mr Cramer said that gold had doubled in price by US$600 an ounce to US$1200 an ounce over the past three years.
"Gold has been the item of choice for many burglars recently. Generally such items are relatively small, portable and provide a high return.
"When it comes to gold jewellery, it would appear that some dealers have knowingly been buying it, melting it down and on-selling to gold bullion traders, in defiance of their statutory obligations.
"Traders should always question why a customer has melted gold product to sell, particularly if there's a regular supply from that customer."
Mr Cramer said 240 officers executed 44 search warrants on Wednesday and Thursday at shops and private addresses.
He said 94 breaches of the Secondhand Dealers and Pawnbroker's Act were detected, and police were yet to decide whether further arrests would be made. Some breaches were minor and technical.
Among the charges were receiving stolen property, burglary, theft, cultivation of cannabis, possession of cannabis for supply, possession of firearms and failure to hold licences or certificates.
At one of the searched premises, police found 18.6kg of cannabis which was seized with stolen machinery.
* * *
* If you believe some of the goods may be yours email:
OpCastle@police.govt.nz
* Once all the items have been photographed, they will be uploaded onto the police website: police.govt.nz
* Anyone with information on non-compliant secondhand dealers, questionable business practices or active burglars, should call their local police or : 0800 CRIMESTOPPERS