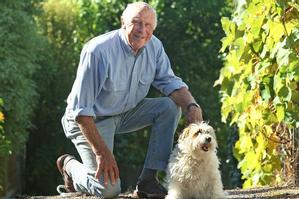 We met on the 12th of October, 2007, in the tiny Belgian town of Ypres, at the Menin Gate, where every night at 8pm the Last Post sounds - a tribute from the people of the town to the many British and Commonwealth troops who passed this way, through the old city gate on their way to the Allied front line.
Was it a misty night? It should have been. It's a misty memory. I met him moments before he and Fred Allen, another former All Black and WWII veteran laid a wreath. The card read: To Our Fallen All Blacks.
He said: "It makes you want to cry, doesn't it?" We did and we hugged and that was the beginning of an enduring, if long distance, sort of romance. It was love, if not at first sight, at Last Post.
We met the next night at a hotel in Paris. We drank beer and laughed. He was 86 then, he's 89 now. He's exactly twice my age and twice as cheeky.
He could, and still does, talk your ear off. Ask the other former All Black Fred Allen, "the Needle".
He told me that on the plane, on the way to Belgium for the 90th commemoration of that ghastly, stinking muddy hole that was the Battle of Passchendaele, he tried to give my bloke a pill, to shut him up.
I asked: "Did it work?" That was a rhetorical question. There was much of that sort of banter. I realised, much later, that we'd never spoken about his war.
We kept in touch. He does send a good Christmas card, this bloke I met in Belgium. I sent him one last year: "Do you remember me?" He replied: "Of course I remember that sheila I spent Christmas with in Paris." It wasn't Christmas.
He wrote: "I fell in love with her. Mind you, I fall out of love fairly quickly!" Perhaps he'd spent Christmas in Paris with some other sheila. He signed his card: from an old boyfriend, RWHS. I'd addressed his to: The Famous All Black, Mr Bob Scott, Whangamata.
It was wonderful to see him again. I'd been at his house for 20 minutes when he kicked me, hard, in the shin. I wanted to see his famous kicking foot. He could kick a ball, barefoot, from the halfway mark.
"Not only halfway! I could do that easily." He once kicked a ball from 65 yards, "granted, I had the wind behind me, but it was at the top of the uprights when it went over".
What terrible toes he has, on that kicking foot, all gnarly and bent over. He says he can't kick any more, but that's a lie.
He kicked me so quickly I didn't see it coming. Then he said, laughing until he nearly cried, "Give us a kiss". He's a terrible man. "I know!"
And I do, almost, forgive him. He's a lovely host. He'd made pumpkin and orange soup for lunch. "Nutmeg's nice on that, someone said. You'd better try that."
We'd taken bacon and egg pie. We could have some with our soup. He said, "You're so bloody bossy." I'd put the pie on his kitchen dining table. He said, "I hope you haven't made a mess."
He handed out the bowls of soup. He said, "I've got the biggest one". Well, he is the oldest. "Smarty," he said. He's been competitive all his life.
He loved playing rugby. What he loved was the competition. "I loved playing anything. Want a game of marbles?" Not with him. "No. You wouldn't have a show."
Has he got some marbles? "Yep." Has he got all his marbles? "Oh, ha, ha." That was payback for kicking me. "Served you right. You wanted to see my foot. You saw it." We'd been there an hour. We might have been married for years.
He said a lovely thing: "When we were in France ... you helped make that. I like you because we can have a laugh. But I think you're a serious person behind all that." We were supposed to be talking about him. I like him because we can have a laugh.
But I think he's a serious person. "I can be serious enough. Somebody once said, 'God, you're not very big.' I said, 'don't let it fool you'."
He's been trying to get me to visit him since Paris. Anzac weekend seemed a good excuse. Perhaps we could talk about his war. I wondered how that would go.
I'd seen a picture of somebody trying to interview him at a do at the Petone Old Farts Fraternity (he had a menswear shop in Petone for many years. He says he wasn't a good businessman but, "I met people well".
I think this means that he'd talk until you bought a suit just to shut him up.) The interviewer in this picture has both hands, one holding a microphone, held aloft in a gesture of surrender. "Oh, well," he said when I reminded him of that interview, "You wander off ...".
He is a great story teller, and can turn it on and will no doubt do so at the upcoming Bob Scott's Toe Kickers Rugby Festival. "Got to keep up the publicity, Michele!" He took me over to meet his neighbour. The neighbour was washing his car.
"Why don't you get a proper brush?" he shouted from across the street. The neighbour gave him the finger. I said, "Excuse me, this is a famous All Black, you know." The neighbour said, "He's used to it". I was introduced: "This is my publicity agent."
He'd said, earlier, "But this is no good for your Anzac story ...". He was talking about his wife, Irene, and how much he loved, and still loves, her. She died 15 days shy of their sixtieth wedding anniversary, almost three years ago.
Her name is still next to his on the front gate. He moved out of their bedroom and sleeps in the spare room. He weeps, at times, when he talks about her, which is all the time.
He apologised for crying, the silly thing. He's lonely, of course. You're glad he has his little, rotund dog, Winnie. "She's a right little bitch," he says. He adores her.
We had a funny, sad, occasionally tearful, always generously shared wander through his life. As his publicity agent (and because you don't get too many chances to prove him wrong), I'll be the judge of what's good for his Anzac story.
I asked about his medals and he said, without much enthusiasm, did I want to see them? He has five. What's this one? "I don't know." It's the King George medal. "I don't know what that's in aid of."
He said, "Now, Irene's medal. There's a good anecdote." She was in the London Fire Brigade, which became part of the services. I said, "Well, you should get a medal of some sort. Anyhow ..." Anyhow ... he dug in his heels and got Irene's medal, and it means much more to him than any of his.
You can see that it might. The war made his life, really. Because the war gave him Irene. He had what I'd call a dreadful childhood, although he says he doesn't think of it that way: he just got on with things.
His father, whom he loved, was 19 years older than his mother, whom he has no feelings for either way. When they split up, he and his siblings were put in a Salvation Army home.
He was 9; he didn't see either of his parents for four years. He later lived with his father - who was "skittled" by a dum-dum bullet on his first day in Gallipoli in WW1, and returned to NZ, ill and impoverished.
When his father died, he was 13 and had to leave school to work, first on a milk run, then in factories. He never formed close relationships with his five siblings.
He says he is not at all bitter about any of this. He never felt abandoned. "It never came into my thinking." He is pretty tough, and he's got his soft side.
"I reckon I have. Very much so." He didn't much go for the blokey culture of the Army or the All Blacks, although he can put it on when that's what people expect. "I like people but I don't get close to many people. I suppose, maybe, deep inside, I got hurt, you know."
He might not have thought about being abandoned, but it might have made him more protective.
"Yeah. You can never hurt me again. I don't know. I can only imagine that that's what happened to me. I wanted to succeed." To ask what he wanted most to succeed at would be to pose another rhetorical question. The great success of his life was marrying Irene.
He had what is called a good war. He joined up, with the motor transport pool as a tank transporter - "they had a rugby team" - then, because tanks were no use in Italy, became a driver of the trucks which delivered ammunition to the front lines.
He says he wasn't frightened. "Well, there was nothing to be frightened about." He got the ammo to the line and got the hell out of there. "I'd flog off a carton of grog to a couple of mates up on the front line so they were very appreciative."
He became a rugby star, playing for the famous Kiwi Army Rugby Team, assembled by Major General Freyberg after the war as a touring team to raise morale.
He came home and became an All Black. If not for the war ... ? "Oh, my life would have been totally different. I wouldn't have met Irene."
They met at a club for soldiers on leave, called the Fernleaf Club. He wooed her for six months and then when he got home sent a cable telling her if she bought an engagement ring, he could get her a free fare to New Zealand.
"Until her dying day she said I'd never paid for that ring!"
We drank a toast to Irene. And he said, "This is no good for your Anzac story".
He means, I think, that his isn't a war story, of derring-do and bravery on the front line.
No, but it is a story of an enduring love that came out of a rotten war.
And I can't think of a better Anzac story than that, can you?