One was able to enjoy travel in Europe, but the other returned with a lifelong fear of the dark. Pam Jones recalls her grandfathers' war stories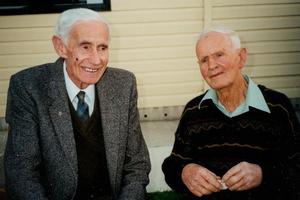 Bert Jones and Murray Newman never knew the other existed as they lay in trenches on opposite sides of the world, fighting dogged Germans and Japanese among the mud, rubble and tears.
But more than 25 years later the lives of two distant brothers-in-arms became forever entwined with the marriage of Bert's son and Murray's daughter, signalling the start of shared grandchildren asking innocent questions that brought the proud soldiers out of their shells.
Often, men breathed nothing of their wartime lives to their wives and children, but the passing of time saw many open up to new generations.
Curled up beside wise old men who had tried to get the best out of their lives, we knew we were hearing things that had remained untold for a full generation and might never be repeated by them to anyone ever again.
Murray "Lofty" Newman gained new confidantes when his two daughters had their own children, but, like the "magnificent, aggressive, cool soldier" the unofficial history of the 20th Battalion of the 2nd NZEF says he always was, he kept careful control of which stories he told.
We weren't told of the journeys through hell we knew Murray had been part of, the Battle of Cassino, time spent in Fabriano, Mignano, Sora.
"We ran into a bit of bother there," he would say thoughtfully when running into a battle in his stories, when he would pause, then carry on with "when we finished we stayed there for a while and then took off again".
Such was the way he avoided details he'd rather forget, dwelling on any good times he was able to have, because the lanky Middlemarch lad had left the family farm in 1942 determined to have an adventure and so any time he wasn't fighting for his life, he was determined to live it up.
Murray spent a year training in New Zealand and was based in Egypt with the 20th Battalion before he went to Italy.
He embraced the culture and was fond of Como, a lakeside settlement in Northern Italy where he spent much of his leave time.
Stories of wine, women and song were later delicately retold within good-humoured earshot of the Bannockburn sweetheart he came back to marry, Rena Newman, who good-naturedly kept up with his sense of mischief and adventure for 60 years until she passed away in 2006.
Murray was largely deaf from being caught beside a tank that was bombed in a friendly fire incident in Italy. By the time he'd reached old age you were better off sitting with him away from everybody else, where he could hear the questions you asked.
It always seemed to be a good way to spend an afternoon and as grandchildren we learned about three months in a Senigallia hospital when Murray was shot in the kneecap; travels to Rome, Florence, Turin and Milan; and an unforgettable six months in Italy after the end of the war, when there was a shortage of ships to go back to New Zealand.
Murray, by then a 2nd lieutenant, was able to travel the country extensively while waiting to go back home.
We soaked up every story, knowing we would never have any real appreciation of what three years of wartime life and the return to a desolate Middlemarch had really been like, though, happily settled in North Otago and South Canterbury, he seemed to put a good spin on it, and we were pleased he'd at least had some good times.
He considered his trip overseas the wartime equivalent of our OE and later on lapped up our own travelling stories eagerly, almost reliving his own time away with each adventure we told.
On the other side of the world, Bert Jones was fighting a very different war.
The Clyde rabbiter was part of the 29th Battalion of the 2nd NZEF, fighting the Japanese in the Pacific.
Murray Newman always expressed deep sympathy for the conditions those fighting in the Pacific Islands had to endure, in particular that they never got to enjoy proper leave.
"I never saw a ship, a recreation ground or anything," Bert would say. "We'd just go back to our tents at night."
Bert landed at Falamai, the Japanese headquarters on Mono Island - part of the Solomon Islands - on October 27, 1943. It was the first opposed seaborne landing by New Zealand troops since Gallipoli, with the enemy pushed back after several days of fierce action and communication lines established.
Trenches were dug and tents put up, with subsequent flare-ups serving to further test the nerves of men for whom the natural night-time noises of the jungle were ample reminder of the possibility of a hidden enemy.
Conditions were grim: "Jungle warfare, incessant rain, fallen comrades buried in shallow graves on the beach."
Bert said they used old .303 rifles from WWI and their tents went rotten in the jungle. There was hardly any food; at one stage the soldiers survived for three weeks on water and biscuits.
First aid supplies were scant and outbreaks of dysentery were common.
Help came from American troops, who had a base at the end of Mono Island.
They supplied the Kiwis with food, stretchers, first aid supplies, and even gave them American uniforms - the American shirt Bert wore home from the war now hangs in my father's cupboard.
When the New Zealanders left Mono Island they went on American liberty ships, escorted by two destroyers.
My grandmother, Alma Jones, who died in 1991, explained patiently the absence of many wartime stories from her husband by saying some things were too painful to talk about, but she did tell us that Bert would never have a bad word said about Americans after he returned to New Zealand, as he considered they had saved his life.
With few good things to say about the war, we knew that Bert believed himself lucky to have served a relatively brief time in the Pacific - returning in 1944 - but that his times of absolute blackness in the jungle had affected him forever. Though a calm, unifying force on the family orchard in Roxburgh, for the rest of his life he remained uneasy in the dark.
Medals, history books, photograph albums and our memories are all that now remain of the war experiences of Bert Jones and Murray Newman.
Bert died in 2000, aged 93 and Murray in 2007, aged 88; gentlemen and warriors, outliving their wives with trademark dignity, courage and fortitude and continuing to make a good fist of it until the end.
Neither of my grandfathers attended an Anzac parade and nor had I until after Bert died.
Now, urged on by respectful great-grandchildren, I occasionally now watch from the back of one. They are a solemn reminder of those who came before me, and a time when I usually stand and wonder - what will happen to the stories I, and other grandchildren the world over, have been told?
- OTAGO DAILY TIMES