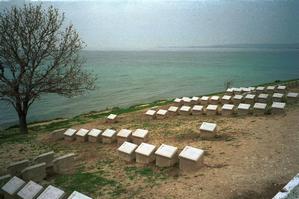 GALLIPOLI - The veterans who have travelled to Gallipoli for the 95th Anniversary of the landings on Anzac Day had their first look at the sites of the battlegrounds on the Turkish peninsula yesterday.
Twenty-two veterans and 23 secondary school students arrived in Turkey late on Thursday night and were taken to Gallipoli Peninsula yesterday.
Well-known war historian Ian McGibbon took them around the major commemorative sites which sit on former battlegrounds.
It was a hasty tour after a plan change late in the piece meant the students and veterans visited the place together, rather than the veterans attending earlier in the day.
Veteran Ken Shankland said it would have been good to have more time to look at the graves of those who died.
All the veterans had relatives who fought in the five month long battle in a scrubby, hilly area of the Gallipoli Peninsula as part of the Allied Forces attempts to win control of the Dardanelle Straits.
In all, 2721 New Zealanders died over the campaign - and the visit gave veterans a chance to mark their service.
Eddie Marr revisited his grandfather's grave at Walkers' Ridge and Morris Johnstone - one of the oldest in the contingent at 88 - had the chance to see his uncle's name and place a poppy next to it on the New Zealand memorial.
Eric Wood of Blenheim also placed flowers on the memorial from his local RSA, a gesture he said was "just for the boys."
It also gave the students the chance to learn more about that campaign.
Conor Donohue, 17, said he had read a lot about it in books "but just being here and seeing this, you feel like you haven't known anything."
He was also surprised at the welcome he had found from local Turkish people.
Coming on the ferry, we were chatting with some Turkish people. It's amazing having that type of friendliness when less than 100 years ago they were shooting at each other. That's amazing."
PM John Key is expected to arrive tonight (NZT) and will meet the veterans and students before attending a series of commemorative services.
As Anzac Day draws near the towns nearest the battlegrounds - Cannakale and Echeabat - have begun to fill with New Zealanders and Australians. Up to 10,000 people are expected to make what has become a pilgrimage for people from the two countries. Out at Anzac Cove preparations for the Dawn Service on Sunday were well under way.
Organised by the New Zealand and Australian governments, the service is followed by separate Australian, Turkish and New Zealand services.

Send us your messages and memories of loved ones who have served in past wars or to people currently serving in the armed forces.
You can also post a message directly in the Auckland War Memorial Museum's official Book of Remembrance.