Roy and Ted Brock are among 22 veterans with links to campaign to be chosen for a special trip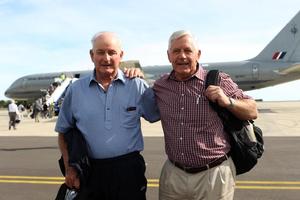 Roy and Ted Brock's father died in 1937 when Roy was 6 and Ted 1.
Roy Brock remembers starting school at Eltham soon after. There was a memorial arch over the entry with his father's name on it.
"Each day you had to walk through that arch and my chest would puff out. Even though my dad was dead, every day I had a reminder of him because when I walked through that arch there was my dad's name. And I felt extremely proud as a small boy."
So on Anzac Day this year Roy Brock will pin his father's war medals to his jacket, his brother Ted will don his father's Gallipoli Medallion, and both will be on the battlefield where their father and New Zealand as a nation fought their first major battles.
The Brock brothers Roy, 78, and Ted, 73, are among the 22 names drawn in a ballot of veterans with family links to the Gallipoli campaign to attend the 95th anniversary of the Gallipoli landings by Anzac forces as part of New Zealand's official party.
Clinton Belmont Brock survived the Gallipoli campaign and later fought alongside his own brother in France and Belgium before he was discharged in April 1919. He died of pneumonia at the age of 42 in 1937, leaving his wife with four young children to raise.
To be able to go to Gallipoli for the first time together as brothers "well, I think that's special", Ted says.
They have carried their father's diaries over to Turkey and both are expecting it to be an emotional experience.
The brothers are also returned servicemen - Roy served in Malaya in 1959 with the 1 NZ Regiment. Ted served with the Army in Malaya and Borneo, as well as Vietnam.
"Even though he was dead, he was a sort of figurehead to us," said Roy. "We didn't want to let him down, even though he wasn't there. We owed it to our dad."
Early this morning, they were to get their first glimpse of the Gallipoli trenches where their father fought as a trooper in B Squadron between August 1915 and the evacuation of the Peninsula in December 1915.
While Ted - who lives in North Shore's Torbay - was too young to remember his farmworker dad, Roy, now living in Palmerston North, has memories of him.
He recalls the installation of a radio when the family had electricity connected and going to the sales with his dad, who would pop into the hotel for a beer afterward, bringing his small son a raspberry lemonade.
But both will also reflect on their mother on that date.
"Our mother was the strong one," Ted says. "She had four children, 10 and below. She really held us together and the whole four of us have done well in life."
They believe Anzac Day should be commemorated, but it's important to remember Gallipoli was not the only major event in New Zealand history.
"People get a bit carried away with Gallipoli and so on," says Ted. "It was a milestone in New Zealand's history and development, but it's only one of many. Sometimes it can be over-emphasised as well. It just happens to be the first time New Zealand was really blooded in battle. But others - Cassino and Alamein - they were major battles too."
But for the Brock family, Gallipoli was important at a very personal level and today the Brock brothers will revisit it, with their fathers' diaries in hand.

Send us your messages and memories of loved ones who have served in past wars or to people currently serving in the armed forces.
You can also post a message directly in the Auckland War Memorial Museum's official Book of Remembrance.