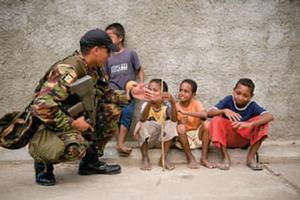 When historians look back at East Timor's first fragile steps as a nation, they'll find the indelible mark of a Kiwi hand.
In 1999, as the Timorese people stumbled to their feet against their Indonesian former occupiers, New Zealand's Defence Force joined international partners in moving to protect them from the bloody militia onslaught intent on destroying the new nation before it even began.
That operation – initially 420 soldiers and 265 navy and air personnel – would soon swell to more than 1000 strong, New Zealand's largest overseas deployment in 35 years.
These days, with an albeit shaky peace descending on the country, our defence presence in East Timor is just a tenth of its former size. But the commitment to Southeast Asia's poorest nation is no less firm. During the 11-year mission, New Zealanders have filled the roles of security enforcers, peacekeepers, observers, advisers and trainers.
And it has come at a cost: several Kiwis have lost their lives in accidents, or in the case of Private Leonard Manning, a deadly attack by militia gunmen in 2000. His memory lives on in a scholarship established by his parents in honour of their fallen son. The scholarship assists poor students from Timor's Cova Lima region with their fees and living costs during technical training courses.
The security situation may be much better than in 1999-2000, but the New Zealanders are constantly on alert for hostilities; despite several tours of duty for many of the personnel, complacency has no place in Timor.
Major Jason Dyhrberg, who has made repeated trips to the country, says
there is a constant feeling of "something ominous looming on the horizon", which means the New Zealanders must keep up their presence on the streets to deter trouble.
"For the soldiers out on patrol it is a hot and challenging environment that requires them to both put up with discomfort and boredom, but also remain continually alert to the possibility of that one ugly
moment," Major Dyhrberg says.

Send us your messages and memories of loved ones who have served in past wars or to people currently serving in the armed forces.
You can also post a message directly in the Auckland War Memorial Museum's official Book of Remembrance.