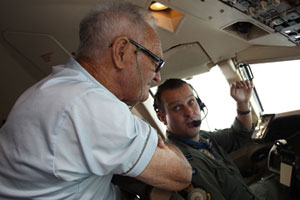 Eddy Marr left his teeth behind in his packing for Gallipoli.
Now when he grins there's a gap from eyetooth to eyetooth. Nothing but gum. He left his dental plate at home - "absent without excuse," he explains - and so he only has half his full complement of teeth.
He doesn't look overly upset about this - he hates wearing it anyway, although it means he can't smile for the photos.
"I can only smile because we finally got rid of a lady Prime Minister."
He fixes the reporter with his eyes.
"You heard me," he says, and nods as if that's that.
Marr is one of the 22 veterans travelling on the delegation to the 95th commemoration of Anzac Day - where they will be met by the male Prime Minister.
Today the delegation will arrive in Turkey. All the vets have family connections to the Gallipoli campaign. Mr Marr is returning to visit his grandfather's grave - one of the few of the 2721 New Zealanders killed that is actually in a marked grave on the peninsula.
Some of the veterans are full of mischief, others are more formal. Bill Taare takes some delight in remembering that the Australians described the kiwi insignia on New Zealand uniforms as 'a fat-arsed duck'. On the first day there are a few surprise reunions. Vietnam veterans Gordon Garwood and Mr Taare know each other and it's been decades. There are roars of delights and exclamations over the lack of change in each. "You're just as ugly!" Mr Taare marvels about Mr Garwood.
But they're all serious when they talk about war.
In his biography, Mr Garwood remembers going to Anzac Day dawn parades with his grandfather, who had fought at Gallipoli. He remembers "lines of grim gentlemen", medals and shoes polished up, "all of them so solemn, so serious. It was not until I served in Vietnam that I came to understand why."
Bill Taare refers to his own service as 'out there'. He says he has begun to join in when the Maori cultural group holds its karakia at the start and end of each leg of travel. He'd never had much truck with that sort of stuff when he was younger.
"But when you're out there ... you know, you start to wonder about it."
Brisbane-based James Hall, 82, who was in the Korean War, has gentle eyes and a quiet way about him. He remembers the noise Spitfires made and being a 15-year-old boy in 1943 and how that noise made him thrill. He remembers hoping the war would last longer so he could join up and maybe fly one.
They all note that their own relatives who were in Gallipoli had rarely spoken of their experiences. Nonetheless, they will sport medals - their own and their ancestors' - and many have brought along diaries, photos and official records of that battle. They are happy to share them. But few of these veterans want to talk about their own wars.
Morris Johnstone talks about his uncle - Private Roy Johnstone - who was killed in August 1915 on the date of the New Zealanders' battle to hold Chunuk Bair. Mr Johnstone was given his uncle's name as his own middle name and because of this he's always felt close to him, although he didn't know him. He needs a piece of blu-tack because he wants to put a poppy next to his uncle's name in the New Zealand memorial.
Of his own part in World War II, he says only that he fought in Italy, and was in the 27th Regiment and "that's enough, really".
Claire Trevett is travelling on the RNZAF Boeing with the New Zealand delegation to Gallipoli.

Send us your messages and memories of loved ones who have served in past wars or to people currently serving in the armed forces.
You can also post a message directly in the Auckland War Memorial Museum's official Book of Remembrance.