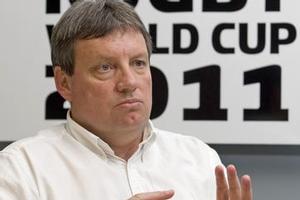 A secondary market has been proposed for purchasers of rugby World Cup tickets who change their mind about attending matches at next year's tournament.
With the threat of ticket scalping an ever-present problem at major events, Rugby New Zealand 2011 Ltd is considering a platform that will allow sold tickets to change hands on a legal basis 2-3 months out from the tournament kicking off.
"People are going to buy match tickets which they may realise they're not going to use when they get close to the tournament," said chief executive Martin Snedden.
"There might be genuine reasons where they simply can't do it."
"People can look at the possibility of selling tickets through an approved process."
Such a secondary market was still in the planning stage, with details to be finalised later this year.
It was possible a platform such as website Trade Me.co.nz or ticket company Ticketek New Zealand would be used to control the re-sale process.
Such a method had not been used at any rugby World Cup but there was a precedent at other major sports events, including the Superbowl in the United States.
Snedden said those selling their tickets on could not do so for any more than face value under the Major Events Management Act.
To do so is an offence, something scalpers would need to be aware of when purchasers physically take hold of their tickets midway through next year.
"What we're endeavouring to do is prevent people accumulating huge blocks of tickets that interfere with other people's access to buying tickets for themselves and then attempting to profit off the accumulation of blocks of tickets," Snedden said.
He was working closely with the government and Rugby World Cup Ltd on means to crack down on scalping but admitted it would be difficult to stop somebody on the street touting a ticket at a bloated price on match day.
Applications for tickets to the tournament open to the general public on Tuesday next week.
- NZPA